How to Convert PDF to HTML Page for Mac/ PC
Adobe's Portable Document Format (PDF) is a fantastic way to save and share electronic documents which package a slew of text, graphics, images and other elements together, with original formatting and layout kept no matter what computer system and device screen it on. However, PDF is a document format and not a data format. Sometimes, there is the need to convert a PDF file to HTML code on Mac or PC that you can then edit in Dreamweaver and use for website, forum or such kinds of services.
What is HTML (HyperText Markup Language)?
HTML, short for HyperText Markup Language, is the standard markup language used to structure and present pages (electronic documents) on the World Wide Web with the set of markup symbols or codes. The HTML markup codes (also refer to as tags) control a Web page's formatting of text and images and tell the Internet browser how to display them for the user. There are hundreds of different markup codes/tags used to format and layout the information in a page. The latest (2015) and complete fifth major revision of the HTML is HTML5.
There is a host of different PDF to HTML converter available for Mac and Windows users out there to convert PDF to HTML page. In today's discussion, we'll stick with one program called PDF Converter. It is a cross-platform PDF tool which makes conversion a breeze, It provides a one-stop solution for converting PDF to HTML, Excel, Word, PowerPoint, Images, Text and EPUB in a fast way on Mac and PC machine. One cool feature of this software is it supports page selection, which saves you time when you convert a multi-pages PDF file to HTML format on Mac or Windows. The Pro version even allows you to convert scanned PDFs.
This article explains the Mac procedure and discusses what steps are actually necessary for converting and saving PDF as HTML page in Mac system.
How to convert PDF document to HTML page for Mac
STEP 1
Add PDF document(s)
Launch this Mac PDF to HTML converter, click the "File" option on the top menu, navigate to PDF file(s) that you want to convert to an HTML format. Select it and click Open.
The software supports batch conversion, meaning you can import several PDFs and convert all of them in one go.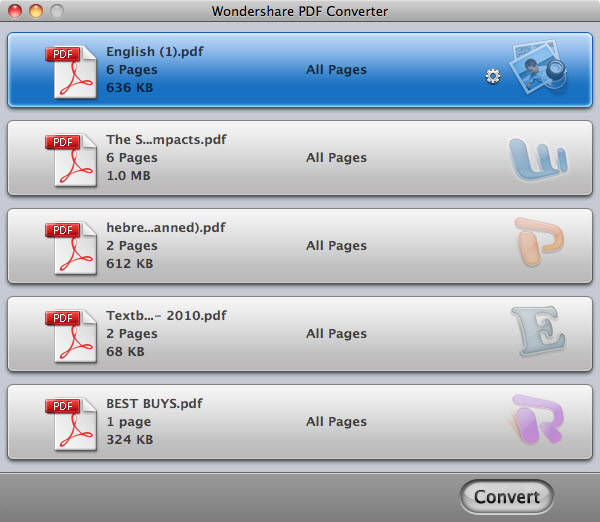 STEP 2
Select output file
The imported PDFs will be shown on the item list on program window.
Afterward, click the Gear icon on the right side of item list to select the resulting file format.
In open panel, simply pick HTML Document (.html) from the "Format" drop-down menu as the output format. For those who wish to convert PDF to Excel in Mac, for example, or Word, PPT, Text, etc., just choose the corresponding option from panel.
Next, above the "Format" menu there is "Page Range" option to adjust the page range. You can choose to select convert all pages, or just a specific range of pages in a PDF.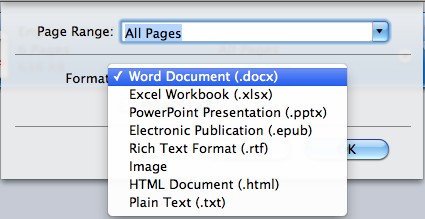 STEP 3
Start PDF to HTML Mac conversion
With only a click of the mouse on "Convert" button at the bottom right corner of interface, the conversion from PDF to HTML on Mac OS X will begin.
In a few seconds (or maybe a minutes), your HTML file(s) will be created.
That's it!
More Tech Tips
PDF to Word Mac - change PDF documents to Office fully editable Word (docx) file