How to Convert PDF to Image for Mac/ PC
PDF is a common file format for distributing electronic documents that are comprised of many elements including texts, images, hyperlinks, symbols, graphs and other features. It's high quality and therefore often used in office for business usage. One of the advantages of PDF is it ensures your printed or viewed file retains the formatting and layout that you intended.
Even though PDF documents are supported on almost any known platform, the need sometimes arises to convert a PDF file to an image file (JPG, PNG, GIF, BMP, TIFF) for Mac or Windows, or just extract range of pages from a PDF to image format. So then you will work on the picture via image editor such Photoshop, print it on the copier, display on a browser, or share on social networks for your followers and friends.
There are many PDF to image converters out there giving you the ability to create image file from PDF on Mac and PC, which is best will vary, depending on the content of your PDF and what result file you want to achieve. PDF Converter is what we'll use in this article. The application provides a very simple & easy-to-use interface, it enables you to easily save the PDF as an image file like JPG, BMP, PNG, GIF and BMP.
Aside from just turning PDF to image in Mac and Windows, the software also allows users to convert PDF files into popular Office files such as PDF to Word on Mac, Excel (.xlsx), PowerPoint(.pptx), and EPUB, HTML, Text, etc. One of its key features is to convert all pages or just a specific range of a PDF in bulk. Be aware that the program offers a Pro version to handle conversion of scanned and encrypted PDF documents to image file on Mac & PC.
Getting Started
Steps to convert PDF to Image files on Mac/ PC
Click the "File" on the top menu, select your PDF files you want to convert to an image format (jpg, png, gif, bmp, tiff), and then click OK. Alternatively, drag PDFs from folder and drop onto the program window.
The application can do batching, meaning that you can convert many PDF documents to Image at once.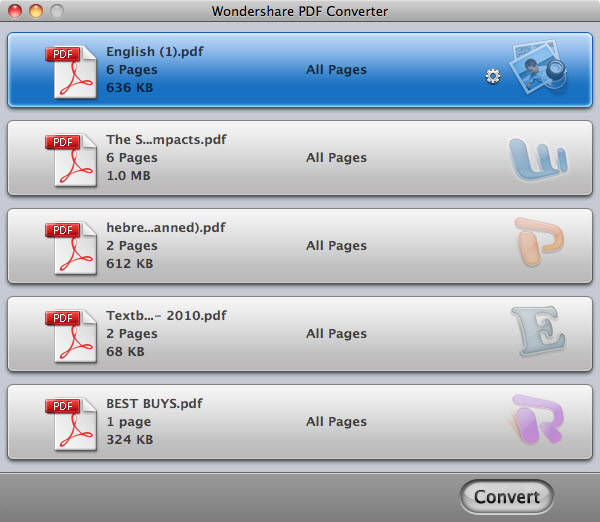 STEP 2
Select Image profile as output
Click the Gear icon at the right side of item, from the opened window select Image as output file type in "Format" drop-down menu.
After that, click the "Advanced settings" option to enter a small panel where you will choose which image file extension you want: JPG (*.jpg), PNG (*.png), GIF (*.gif), BMP (*.bmp), TIFF (*.tif).
Tip: If you have text and want a quality result, the lossless image format PNG, TIFF, GIF and BMP is your choice; to use in web browsers, JPG is still the king for photographs and photo-like images on the internet; GIF is mainly used for animation; PNG (uncompressed) is best suited for editing pictures; TIFF is generally popular in the printing business; The BMP (Windows bitmap) remains widely accepted in Windows programs.
See also: how to convert PDF document to text on Mac OS X.
You then will choose to adjust the page range of the original PDF that you want to convert to image file for Mac and Windows. "All Pages" or a specific range (1.2,5,18-26, for example) are available.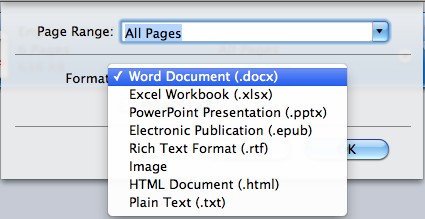 Designate an output folder and type a name for the target file in "Preference" option on top menu.
Go ahead and begin the process. Hit the "Convert" button on the bottom right side corner of interface to begin converting PDF files to image format on Mac and Windows computer.
If you're converting multi-page PDF documents with complex layout to image, the process may take a little bit longer. Generally, the time it takes will range from a few seconds to minutes.