How to Convert PDF to JPG Image File
If you're trying to find a way that can read PDF and then export JPG on a Mac or Windows in order to share the images on the website, view them in a device like iPad or Android tablets or for further usage, you are definitely in the right place!
PDF is a very popular media for carrying important data since it can contain text, graphics, images and other data in a page with layout and formatting. However, sometimes there is the need to convert a PDF file to JPEG (.jpg) image file on Mac or PC. To view a PDF file on your computer you must install a desktop application like Adobe Acrobat reader; to display PDF in web browsers you need to get a plug-in; PDF seems not a friendly file type to Microsoft Office when you try to insert it in Word and PowerPoint. Unlike PDF documents, almost all type of computers, mobile devices, multimedia players, Office applications can read JPG image file.
What is JPEG (Joint Photographic Experts Group) file?
JPG, also known as JPEG, is a file extension for digital graphic and photo file. Image files that employ JPEG file type allows lossy compression, meaning image quality is lost as file size decreases. The degree of compression can be adjusted to get a reasonable size and image quality. JPG files have 2 sub-formats, JPG/Exif and JPG/JFIF.
If you've ever wondered whether there's easy way to convert PDF and save as JPG in Mac OS X or Windows, PDF Converter is just be what you're looking for. The program is a lightweight tool that enables you to convert PDF files to JPEG on Mac or to other image files (BMP, PNG, TIFF) and other common formats such as Word, Excel, PPT, Text, ePub, HTML. It also comes with options to set a specific range of pages of a PDF to be converted. The Pro version of this program even supports converting scanned PDF documents.
The procedure is unbelievably simple and takes in minutes. Here we're going to use the Mac version of the PDF Converter to create JPG from PDF file on Mac computer, the operation is the same for Windows environment.
How to convert PDF file to JPG image for Mac
Open the folder where containing PDF presentations that you would like to export to JPG, highlight them and drag them to the program window.
Alternatively, go to the top menu and use "File" button to add PDFs.
One of the cool features of this Mac PDF to JPG converter is that it allows you to batch convert PDF files – so you can load a bunch of PDFs to item lists and convert them all at once.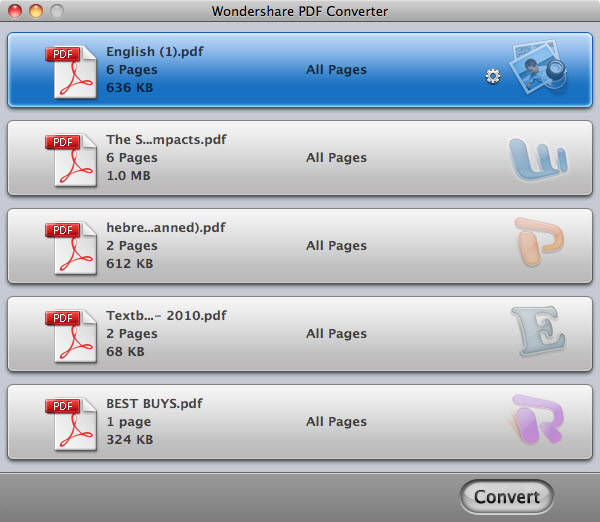 STEP 2
Set output file type - JPG
Go ahead and pick the file type you want to save out the PDF file as.
Click the Gear icon at the right side of item list, this will bring up the output profile panel. Then simply select Image as the output file type in "Format" drop-down menu box. After that, you select JPG as the target file extension in "Advanced settings".
Note: Here you can also choose converting PDF to PNG, BMP, TIFF image files if required.
Next, in "Page Range", you can set the page range or convert all pages of PDF to the JPG image format on Mac.
/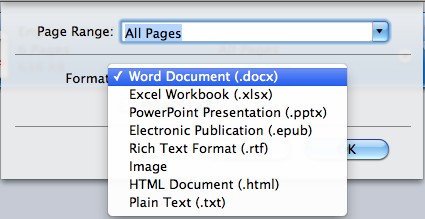 STEP 3
Start converting PDF to JPG in Mac
Now, hit the "Convert" button on the lower right corner to begin converting PDF to JPG file format for Mac. The process may take a few seconds or minutes, depending on the file size of PDF and your computer power.
After a while you will have the new created JPG image file ready on the local folder, all done!