How to Convert PDF to PNG for Mac/ PC
There are various of worthwhile reasons to convert Portable Document Format - PDF and save as PNG image file on Mac machine or PC. PDF requires a desktop application like Adobe Acrobat Reader (or Foxit Reader) or web plug-in to read it while PNG does not. Most of computers and web browsers have the built-in capability to display PNG image. And most Office applications such as Word, Excel and PPT handle PNG images better than PDF files. In addition, converting your PDF file to PNG image format allows you to share online with ease, whether you want to put it on personal website or social platform like Facebook.
What is PNG (Portable Network Graphics) file?
PNG is a completely patent- and license-free raster graphics file format that supports lossless data compression, meaning the PNG files do not lose quality during editing. It is developed to replace the older and simpler GIF image format. PNG files do not support animation while GIF does. Compared to another popular JPEG image format, PNG file tend to be a larger size than jpeg in the same situation, because it contain more information. The PNG becomes the most used lossless image compression format on today's Internet.
Windows & Mac: PDF to PNG converting program
There are multiple ways to get your PDF file converted into PNG format for Mac or PC system, but I'm going to stick with the easiest method - PDF Converter. It is a small and efficient program that can convert a PDF file to PNG in Mac OS X and Windows, and support exporting to other popular formats including PDF to ePub, HTML. Excel, Word, PPT, Text. The software also lets you choose to convert the whole document or just range of pages of your PDF file.
Important: The Pro version has capabilities to convert scanned PDFs and output iWork Page (Mac only). You can even combine multiple PDFs into one or create PDF documents from other files (Windows Only). See more information at the product overview page.
This tutorial will show you the basic steps you have to take to convert a PDF file to PNG image for Mac.
How to convert PDF to PNG image file on Mac OS X
STEP 1
Add PDF document(s) to the program
Go to the top menu and click "File" button, browse your computer for the PDF file(s) that you want to convert, select them and load them.
You can also simply drag all those PDFs and drop into the PDF to PNG Mac converter.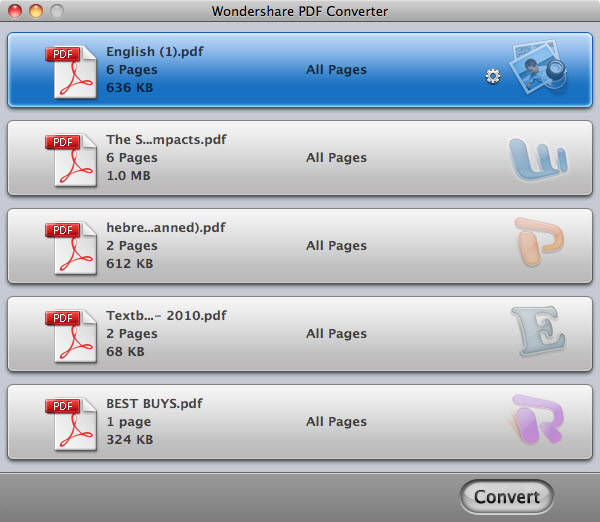 STEP 2
Select PNG from Image output profile
After selecting the PDF, they will display in the item list in program.
Next, click the Gear icon at the right side of item list, then a small panel will pop up, see below.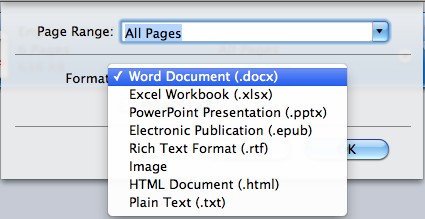 Now, pick up Image as output format from "Format" drop-down menu, and then click the "Advance settings" to set PNG as the target file extension.
As seen in the drop-down menu, you can select a common Word Document (.docx) as output if you intend to convert the PDF file to Word document on your Mac computer.
Next, use the "Page Range" field to enter the specific pages in the multi-page PDF that you want to convert to PNG file, or just select "All Page" option to convert the entire PDF file.
Before the process, you set up a destination folder for the created JPG in "Preference" button on the top menu.
Now, press the big "Convert" button at the lower right-hand of interface to start the process of converting PDF to PNG file format in Mac computer.
The conversion process may take seconds or a minute if it's a large file, but it's usually quick.
More Tech Tips
PDF to TIFF Mac - simply convert the PDF books to a image file with .tiff extension