How to Convert PDF to PowerPoint (.pptx)
Portable Document Format (.pdf) is the file standard for saving documents that are comprised of many elements including text, graphs, images, hyperlinks and more. The PDF can keep the complete formatting of the original document and will look the same on the screen and in print, making it popular in business and personal usage.
However, PDF's do not perform well in a slideshow format, there are times when you may need to convert PDF to PowerPoint (.pptx) files on Mac or Windows, so that you will then edit the elements from a PDF in PowerPoint presentation or pick the good parts of the PDF for a new PPT presentation you are creating.
While PowerPoint is the king of presentation application included in Microsoft Office that allows users to create presentations and slideshows, there are plenty of programs that can convert PDFs to PowerPoint .pptx for Mac and PC computer. PDF Converter is our favorite. This product allows single or multiple PDF files converted into Microsoft PowerPoint in a fast way and works with both Mac and Windows operating system. Other export of file formats it supports are: Word, Excel, Image, HTML, Text, EPUB, etc. More importantly, it lets you designate range of pages or all pages in a PDF for the conversion.
Note: The pro. version of this PDF converter even has capability of converting scanned PDF documents to PPT (2007, 2010, 2013) or other file formats with Optical Character Recognition (OCR).
The following describes the steps you will need to transfer an Adobe PDF file to PowerPoint (.pptx) slides for presentations on a Mac. The process in Windows is actually the same.
How to create Microsoft PowerPoint files from PDF on Mac
Head to "File" button to locate the folder on your Mac that contains the PDFs you want to convert to PPT, and add them to the program. Or just use the drag-n-drop feature to load files.
After the PDF documents loaded, you'll see something as demonstrated in the screenshot below.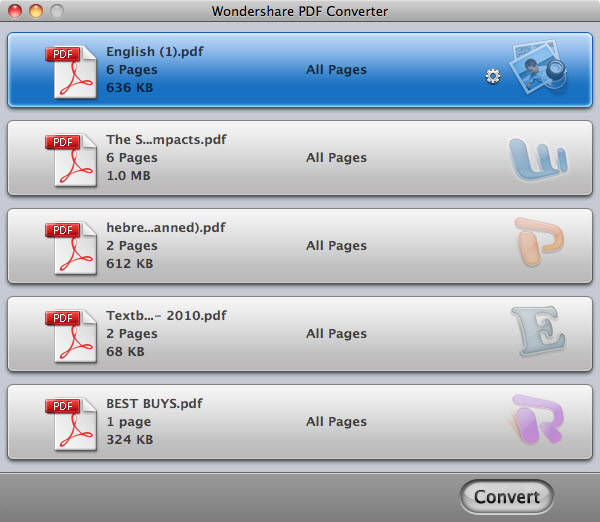 STEP 2
Save the output as a PowerPoint
Next, you need to go to the Format dropdown and select the export file type you want.
Click the Gear icon at the right side of items, it will bring up a small panel. Hit the "Format" drop-down menu, you'll see a list of supported formats. For our case, we want to convert PDF to PPT on Mac, so here we select PowerPoint Presentation (.pptx).
In "Page Range" menu, you can choose if you want to convert entire pages in a PDF or specific pages you want. The PDF to PowerPoint converter allows you to export a selection of PDF pages to PPT on Mac and PC's, rather than the entire document.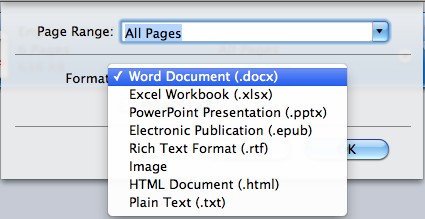 STEP 3
Start PDF to PPT Mac conversion process
Once you have output options configured, set a local folder where you wish to save the new PowerPoint files.
Then, press "Convert" button at the lower right corner of screen, the software will start converting PDF into PowerPoint presentations in Mac.
Depending on the size of your PDFs the time of conversion process it takes will vary. If there is a lot of images and tables in the PDF, the process may take a while. Generally, a PDF containing 200 pages will take less than 10 seconds.
Anyway, if there are few mistakes in new made PPT files, be prepared to do a little correction.
See another detailed walkthrough about how to convert PDF to Word on Mac OS X here.
How to convert scanned PDF to PowerPoint (.pptx) in Mac & PC
Some of you may have scanned PDF files in which the whole content presents as an image. In that case, to convert such PDF documents into editable & searchable PPT format for Mac or Windows, you will need OCR to recognize and extract data from the image-based content.
Luckily, the Pro. verison of this PDF converter integrates OCR plug-in which allows you tackle with such things, and the scanned PDF to PPT conversion process is actually the same as the process of converting native PDFs, as long as you activate the OCR function.
How to activate OCR?
1. Launch the Pro edition and add scanned PDFs.
2. Simply turn the OCR button on at the lower left side of screen, and then click the "Install OCR" button in a pop-up dialogue.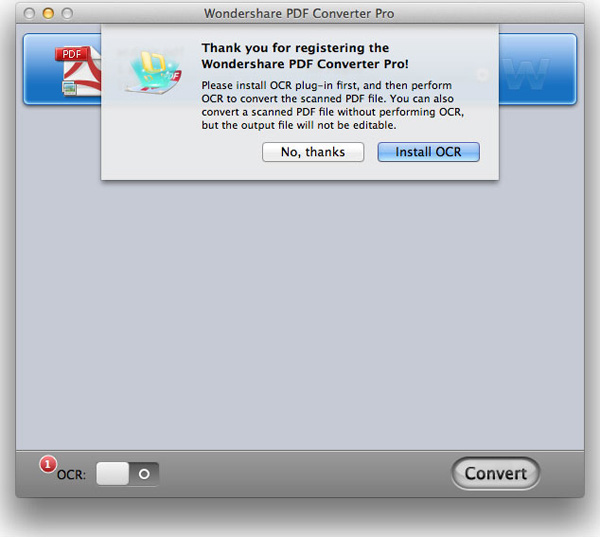 Then, a prompt will show you how it goes on with the downloading process.
After the installation complete, re-launch the program, and check if the OCR function is activated.
Now, you're ready to converting the image-based PDFs to PPT presentation on Mac / PC following the steps of converting native PDFs mentioned above.