How to Convert PDF to Text File on Mac & PC
Let's say you have several PDF documents in your business folder which need to be converted into Text (.txt) format for further manipulation and analysis. It's true that you can copy-n-paste words and symbols from a unprotected PDF into a Text file on Mac or PC, but manually do it one by one is too tedious when you have several PDFs you will have to tackle with, especially every PDF document contains hundreds of pages, let alone encrypted PDF files that're locked from being editing, copying, and printing.
What is PDF (Portable Document Format) ?
PDF is a file format created by Adobe which used for the electronic exchange of information including text, fonts, images, tables, hyperlinks and graphics in a document, without losing original formatting and layout. It's highly compressed, allowing complex information to be downloaded efficiently. To view PDF files, you can go and download Adobe official Acrobat Reader or its plug-in for web browser.
Today I'll be showing you how to use an effective PDF Converter to convert just about any PDF document into text in Mac and Windows. The converter is a fast and flexible application which makes it easy to converts PDF files. Apart from converting and saving PDF files as text file, it can also export to Microsoft Office documents such as Word, Excel, PowerPoint, HTML, EPUB and image files (JPG, PNG, TIFF, BMP, GIF).
Important: The program comes with Pro version which features OCR technology to enable you to even convert scanned PDF to either plain Text or rich Text format and various of other popular formats.
For making thing easier, we'll walk you through the process of converting PDF and produce an editable text document. In this example, we take the Mac conversion for example.
How to convert and export PDF to Text format on Mac
STEP 1
Add PDF source file(s)
Click "File" button on the top menu and pick your PDF document file(s). You can select multiple files and batch process in one go.
Or directly drag the PDFs you want to convert into Text and drop to the program window.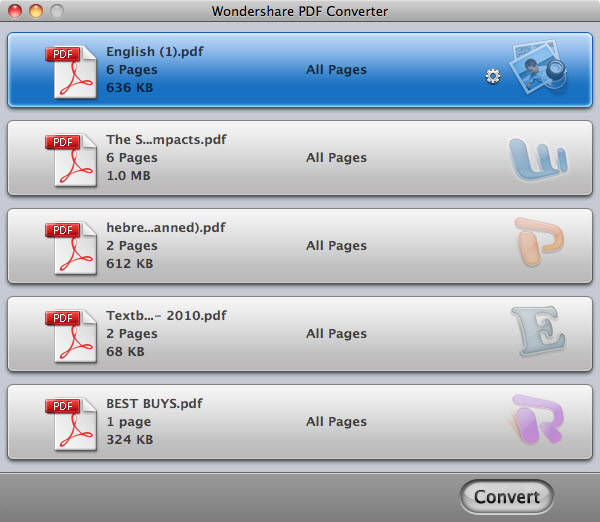 STEP 2
Select the correct output format
After the files imported the PDF to Text converter for Mac, click the Gear icon at the right-hand side of item list, this will open a dialog box, choose Plain Text (.txt) or Rich Text Format (.rtf) as the output file type from "Format" drop-down menu.
Tip 1: Compared to the Plain Text, Rich Text Format will retain original formatting, such as fonts, italic, bold. Microsoft Word, Apple TextEdit and most other editors can handle RTF file.
Tip 2: Select Excel Workbook (.xlsx) from the list if you wish to convert your PDF to Excel spreadsheet in Mac.
You can also adjust the page range from all pages to any pages range (1,2,7,15,17, for example) that you want to export from the PDF document from "Page Range" menu.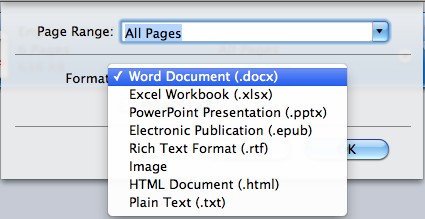 STEP 3
Begin converting .pdf to .txt or .rtf format on Mac
Now we'll start the actual conversion process. Press the grey "Convert" button on the bottom right corner of interface, then wait and leave the program to do its thing.
The conversion of transferring PDF files to text files on Mac will take anywhere from a few seconds to a few minutes.
After the process finishes, open the new file in Word or other text-available applications and you'll see the text extracted from your PDFs, check if there are white spaces or odd characters in it, correct them if required.
How to convert a scanned PDF file to Text file format on Mac and PC
Now if you have bunch of image-based (scanned) .pdf documents on your file folder, you're required Optical Character Recognition (OCR) to extract text from PDF, so that the resulting document then can be read by most word processing applications.
Fortunately, the PDF converter understands this and provides a Pro version that lets you convert the image-only information of a PDF document into text for Mac and Windows users.
The process of converting a scanned PDF to Text or other formats like PDF to Excel, PPT, Word, etc., is actually the same as the process of converting a native PDF, the only difference between them is you'll have to activate the OCR function in main window of Pro. version (download the OCR package) to handle scanned PDFs.