How to Convert PDF to TIFF for Mac/ PC
TIFF, standing for Tagged Image File Format, is a flexible, adaptable format for storing bit-mapped images across multiple computer platforms. TIFF files are widely used in print design, faxing, word processing, 3-D applications, desktop publishing, scanning and medical imaging applications. TIFF offers option to use a lossless compression technique to store image data, and has ability to compress the data to lower file size. Image files in TIFF format often end with either a .tiff or .tif extension. Compared to other image file (jpeg, png, bmp), one of advantage for TIFF file is it can be edited and re-saved without losing image quality.
Let's say you have a collection of PDF documents on hard drive, and you want to convert those PDFs into TIFF on a Mac or PC so that you can work with them within Office document imaging-editing, or send to a friend who has problem opening the PDFs. Whatever your reason is, converting the PDF to TIFF image file on Mac or PC is not a difficult thing as long as you get the right PDF converting program.
In today's discussion, we're going to use the software called PDF Converter, a versatile tool featuring a dead simple interface. It makes it simple to quickly convert PDF to TIFF file on Mac & PC, and also conduct conversion from PDF to other popular image formats such as PDF to JPG, JPG, BMP. Some other output formats it can convert PDF files into are: PowerPoint, EPUB, Excel, Word, plain and rich Text. What's more, the program even comes with bulk conversion and page selection options.
Note: The Pro version integrates with OCR technology that allows you to convert scanned PDFs hassle-free.
This brief tutorial will show you the basic steps on how to creating .tiff image from .pdf on Mac for example.
How to convert and save PDF as TIFF file on Mac
Launch the program. Open the folder where your PDF files saved, drag and drop the PDF files you want to save as TIFF format into the white portion of this PDF to TIFF converter for Mac.
Or head to the top menu and click the "File" option, in opened dialog, select the PDFs from the local folder and choose "Open".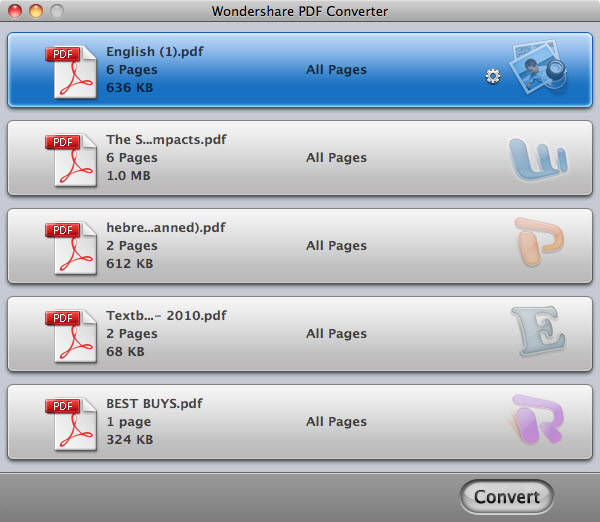 After you have the PDFs imported, you're going to choose an output profile. Click the Gear icon on the far right side of item list, this will open a new panel.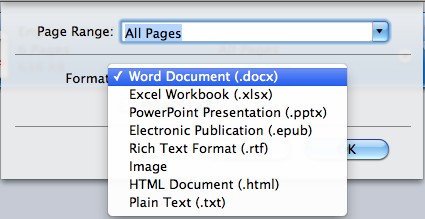 In from "Format" list, you can convert PDF to Word (.docx) in Mac, for example, or into a file with xlsx, pptx, into an rtf, html, txt, epub, etc. In our case, we'll choose Image from the list, and then pick TIFF as the final file extension for the image.
Please be note that you can specify the PDF page(s) you want to convert to TIFF in "Page Range" field if required.
STEP 3
Convert the PDF to TIFF on Mac
After finishing setting your choices, press "Convert" button at the bottom right side of main screen to start the process of PDF to TIFF conversion on Mac os x. Let the program does the rest things.
The process of converting PDF to TIFF format in Mac will be completed in a few seconds or minutes, be patient!
That's it!