How to Burn iTunes Movie to Blu-ray/ DVD on Mac & PC
Nowadays, personal entertainment has reached to a new level of convenience. You can use the music streaming service on Spotify to download music for offline listening; you can download the latest quality movies from iTunes Store to your iPhone and iPad and watch anywhere. But when it comes to store and share the downloaded songs and movie files, many of us still have a demand to burn downloaded iTunes movies onto Blu-rays and DVDs so that you then can enjoy on the large screen with a Blu-ray/DVD player. See more about iMovie video to Blu-ray.
Back to years ago, iDVD is a full-featured DVD authoring tool built in Macs that lets you burn iTunes movie files to DVD, in a few clicks you can produce a professional-looking disc. But there is no Blu-ray output option available for you. Since Apple discontinued iDVD, a separate tool is needed to create DVD or Blu-ray from iTunes videos on Mac.
Is there any software that gives you the ability to convert and compress the iTunes digital videos into something that will play on a stand alone Blu-ray / DVD player? Fortunately, Blu-ray Creator for Mac is just the tool you go after. It is a complete solution that lets you burn iTunes video to Blu-ray on Mac, and supports pretty much of video formats, audio tracks and digital photos as input, and then burn to Blu-ray/ DVD, Folder file and ISO image without a hitch. The software also includes the ability to add a menu template from a group of beautiful presets to enrich your disc, and has options to add your own music and image as background.
Just one quick note, if you're using a Windows-based machine and want to burn an iTunes video onto Blu-ray or DVD, please use its counter-version: Blu-ray Creator for Windows.
In case you are having difficulties in getting started with the software, we have instructions below that will guide you through the whole process about how to burn iTunes movie to playable Blu-ray for Mac OS X.
How to convert and burn iTunes movie to Blu-ray in Mac
STEP 1
Add iTunes video file(s)
Open up the program, it will show you an easy to understand window where all necessary operating options are labeled well. To add iTunes file(s), click the large "Add Video" button.
Alternatively, you can just drag iTunes files stored on your Mac and drop to the window of the Blu-ray converter.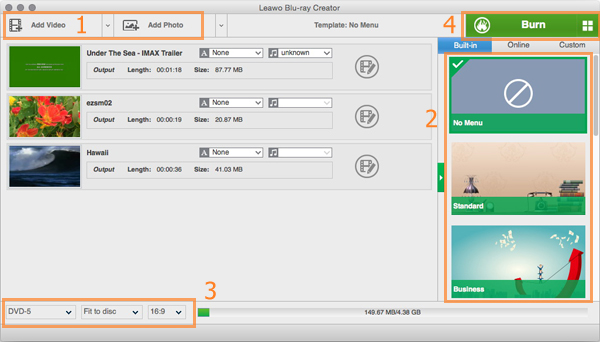 After all of iTunes movie files you wish to burn to BD disc have been added, on the bottom, a calculator bar will show you how much the capacity of a type of disc it takes. Then you're required to insert a Blu-ray into the drive that has enough of free space.
The Mac iTunes movie to Blu-ray converter software provides a selection of pre-set menu and template models in different themes for you. You could easily choose the one that meets personal preference.
You then can preview it on the left side portion of the screen, as you can see below.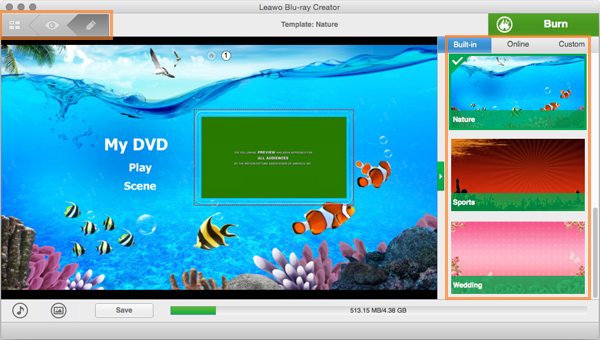 Edit the menu: Click the 'PEN' icon on the upper left side to activate the editing mode, where you can edit all items of menu such as texts, font-size, color. To personalize background, on the bottom side, there are "Music" and "Photo" options for you to add your favorite song track and image as background to the menu.
Next, click on the green "Burn" button on the main screen, it will pop up a small pane asking set the neccesary output before the burn.
In our case, we just need to burn iTunes digital videos to a Blu-ray disc on Mac, so here we tick the third option in "Burn to".
Be aware that if you, at the same time, wish to create a backup of the content to an ISO image or Folder file, you can also tick the corresponding option respectively.
Keep an eye on the bottom left-hand side, choose the value that meets your preference.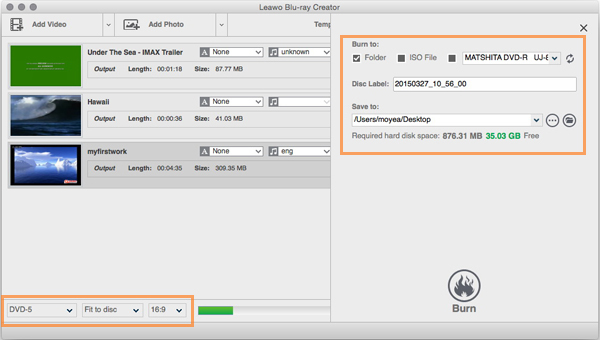 STEP 4
Start converting iTunes video to Blu-ray for Mac
Now, it is time to start the proceed burning if everything looks alright.
Again, click on the "Burn" button on the pane (see above) to let the program begin the burn on your Mac.

The burning process of iTunes movie to Blu-ray on a Mac will take time depending on the output settings you make, the power of your Mac hardware and the items it has to burn.
There you go!
After the burning finish, you can pop the Blu-ray into your BD player to enjoy your iTunes movies using Home's Big Screen.
Have a good time!
More Tech Tips
MP4 to FLV Mac - transfer mpeg-4/h.264 AVC digital video to FLV flash format