How to Play MKV Video File on Mac
Out of the box, your Mac can do almost anything just like that of your Windows machine, but playing MKV movies on Mac isn't one of them. The default QuickTime player included in Mac is incapable of playing Matroska .mkv files natively. And the 3rd party QuickTime plugin like Perian, which gives you the ability to play all manner of video files, was no longer available in OS X Mavericks or above. In addition, the MKV format is not in the list of video types supported by iOS devices like iPhone and iPad.
MKV is an open-standard format that's designed to be future-proof. It can holds virtually anything including video & audio stream, picture, subtitles, languages in one file. Due to the flexibility the MKV offers, it is getting a rapid growth on the Internet. Many of 720p/ 1080p movie files downloaded from torrent sites end with .mkv file extension. And MKV is the prefer format when it comes to making an exact digital copy of Blu-ray.
So, what do you need to do if you want to play your 720p/ 1080p MKV files on a Mac?
Solution 1: Convert MKV to a more manageable format that's playable on Mac
Video conversion utilities give you the flexibility to convert MKV or any other movie files into a different format for compatibility purposes. For example, you can opt to convert MKV into anything from a Mac-friendly MP4 (h.264, mpeg-4) and MOV format, to WMV for Windows applications/ devices, or to MP3 for iPod, and something else.
Video Converter introduced here does what its name indicates. It's a dead-simple, lightweight tool that can convert MKV videos for playback on your QuickTime player, or working on iOS device you own. It allows for video conversion between a ton of other popular formats such as MP4, AVI, WMV, M4V, MTS, AVCHD, MOV. Behind its intuitive interface, advanced users can even tweak many of elements of your chosen format, and do some basic editing on video so you get exactly what you want before conversion.
Once the software has been successfully downloaded, install it on your computer by following the on-screen instructions. This will take about a minute.
Solution 2: Install a 3rd party media player to view MKV on Mac OS X
If you're looking for a media player that plays MKV or pretty much anything you throw at it in Mac then the VLC is the go-to app for you. It's a very versatile app that accepts all physical and digital media formats from Blu-ray, DVD, CD, to MP4, MKV, MOV, WMV, AVI, MPEG and everything in between as input, making it easy to view your entire media collection. The VLC player works across multiple platforms including Windows, Macintosh, Linux, iOS and Android. So to make your 1080p, 720p MKV video files playable on a Mac, just head to VLC website and download its Mac version to your computer.
Download link: http://www.videolan.org/vlc/download-macosx.html
How to convert 1080p/ 720p MKV to play on Mac with Video Converter
Stage 1 – Import MKV movie files to the program
Once you've installed the video converter on your computer, you can start the process.
Open the video converter. In the top menu, click "Add File" button then browse for MKV videos that you want to play on Mac. It doesn't have to be a Matroska .mkv format, the application allows you to add any type of videos, such as WMV, AVI, MPG, VOB which cannot be supported by Mac, for conversion.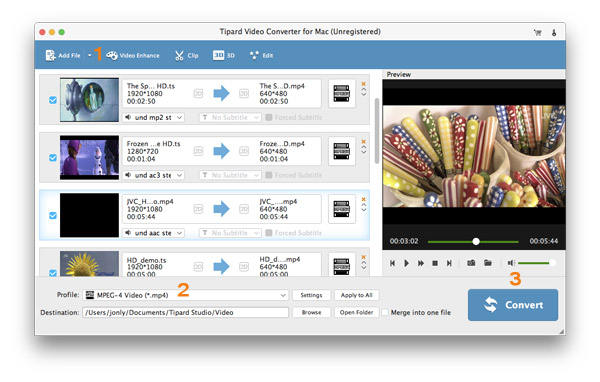 Stage 2 – Specify the output format and quality
In this step, we're going to choose a more accessible format as output.
Look at the "Profile" drop-down menu on the lower left side of the interface, clicking it will show you a pop-up panel, as shown below, where are a list of different file formats and device presets you can choose from.
In this example, I would go for "HD H.264/MPEG-4 AVC Video (*.mp4) under "HD Video" category for example, It plays fine on almost every media player and works well across platform. You can also choose from MOV and M4V option if you just want to convert MKV and play the output file on Mac platform, or stick with WMV for Windows computers.
Afterward, another thing to do is tell this MKV converter where you want the video to be saved by clicking the "Browse" button near "Destination" box on the lower left corner.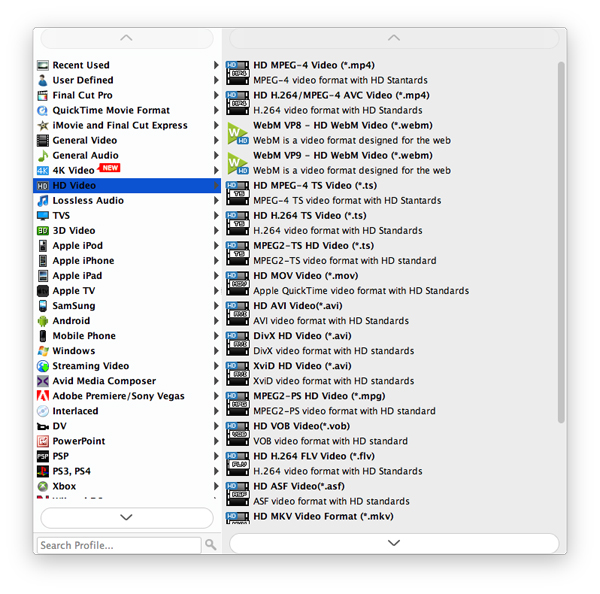 For experienced users who want to take more control over output file, the program also includes a number of encoding settings such as codecs, bit rates, resolution, frame rate, channels that you can further tweak behind "Settings" button (next to "Profile" menu).
Please note that any tweaking among them will cause the noticeable shift in file size and image quality of output file. For most users in most case, you could leave the default settings as they are.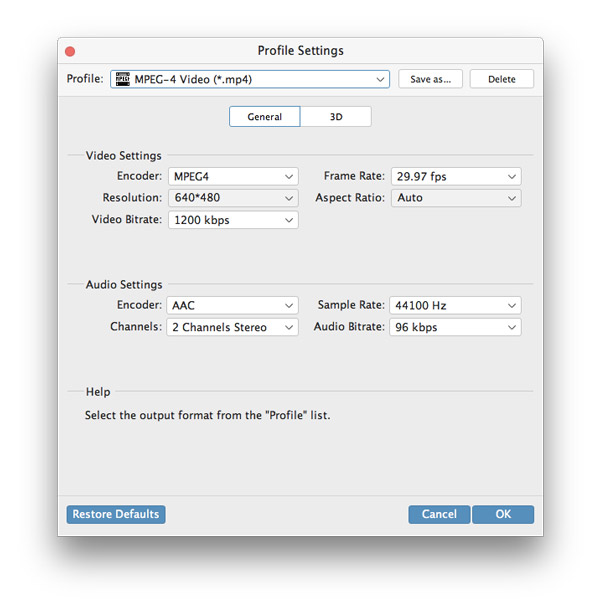 Use preset instead
Let's say you want to prepare a (MKV) video for playback on your portable tablet or something like smartphone, but you don't know the exact size, format, bitrate, frame rate to use? Never mind, this Mac MKV converter has you covered with a good list of pre-configured presets for hand-held devices and multimedia players, ranging from smartphones (iOS, Android, Windows), tablets (iOS, Android, Windows), PlayStation Portable, Xbox, and more.
Once you choose the preset you want from the list, the program will convert movies to the correct format and size for that device, without extra settings-tweaking.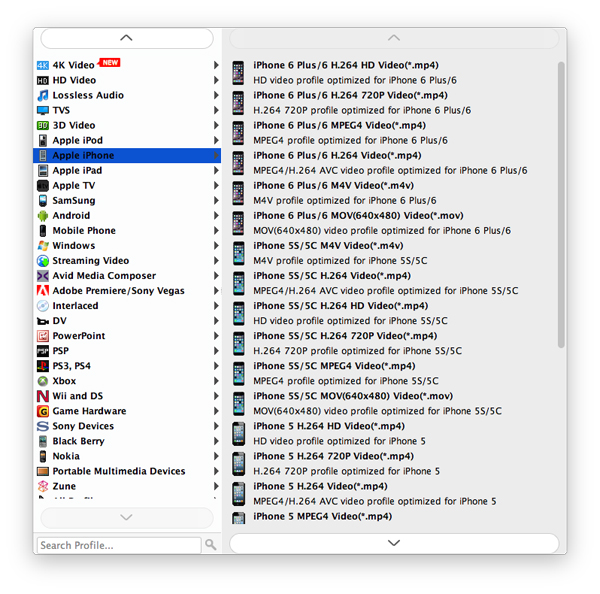 Stage 3 – Start converting MKV to your desired format in Mac
Once everything is configured you're ready to go!
Press the blue "Convert" button in the bottom right corner of the interface, the MKV conversion will begin. Just wait until the software is done converting your 1080p/ 720p MKV video files on Mac.
A new process window opens, displaying progress bars that show the amount of time required to convert the entire project as well as the individual item that's currently in progress.
After the MKV conversion completes, go to the designated folder location, and check if the new-created video files are played well on your Mac computer.
That's it! Happy MKV converting!