How to Convert MP4 to FLV File Format
In the era of mobile Internet, people tend to do things with online services. You're capable of uploading, streaming, and sharing interesting videos on YouTube and Facebook; you can listen to music from iTunes Store with iPhone; you can take pictures and footages and share them on social networking services through Instagram.
However, even so, you might still have some video files stored on your computer that you want to upload onto sites like YouTube or Hulu or just embed for a blog. Let's take MP4 file for example. This digital format contains mpeg-4 or h.264 video. To keep things perfect, you may be attempting to convert the MP4 on Mac/PC to an flash .flv version of a video with smaller size so that you then can upload it without any restriction.
Go here if you want to burn MP4 movie files onto Blu-ray for watching on TV.
What is FLV file type?
FLV is a proprietary container format developed by Adobe, and the file with the .flv extension is a Flash video file. A large selection of video-hosting providers uses Adobe Flash Video technology to display media video. You can take the official Adobe Flash Player software to stream .flv flash files on your Mac, Windows, Linux computer, or installed plugin on web browser to view FLV video online.
Program to convert your MP4 format
To make video distribution more convenience, in some cases, you definitely should convert MP4 (h.264/mpeg-4) to FLV file on Macs or PC's. Today there are plenty of quality MP4 to FLV converters support for video & audio conversion. Notable program for us is Video Converter. It takes care of conversions to everything from WMV, Xvid, MKV, H.264, MP4 to FLV, VOB, AVI, M4V and other key formats. You can also use it to strip audio file from a video, or just convert between audio formats. Additional options let you fine-tune the settings of the output video. Preset choosing is another benefit for you.
Here I will show you a clear instruction for both advanced user and non-geek folks who want to get mpeg-4 or h.264 MP4 file converted into FLV flash video for Mac or Windows system using this software.
How to convert an MP4 to a FLV for Mac OS X or Windows
Here is the main screen of this program that works in Mac computer: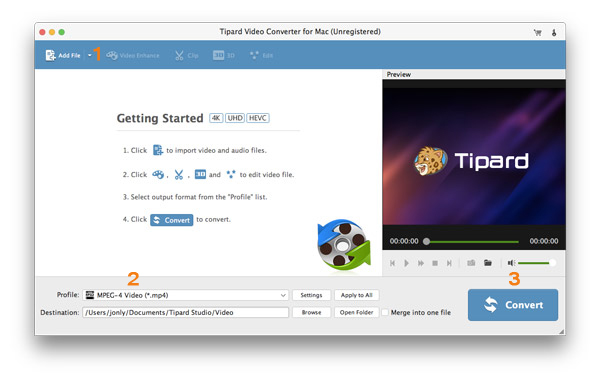 Stage 1 – Select an MP4 file
Click the "Add File" (#1) option on top menu to locate the MP4 on your computer to add it into the program. Or simply hold the desired MP4 file and then drop it onto program's window.
This converter supports a number of other input file formats to add. If you want to transfer MOV to FLV on Mac for example, simply add the MOVs to the program.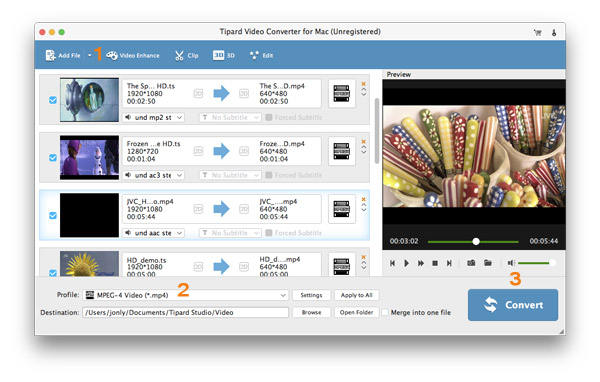 Stage 2 – Choose a file type to convert the video for
Once you have file loaded, you will need to use the "Profile" button in the bottom left side of program window to select an output format.
Click the button and it will open a Format window.
Next, head to "General Video" category, and pick up "FLV Video".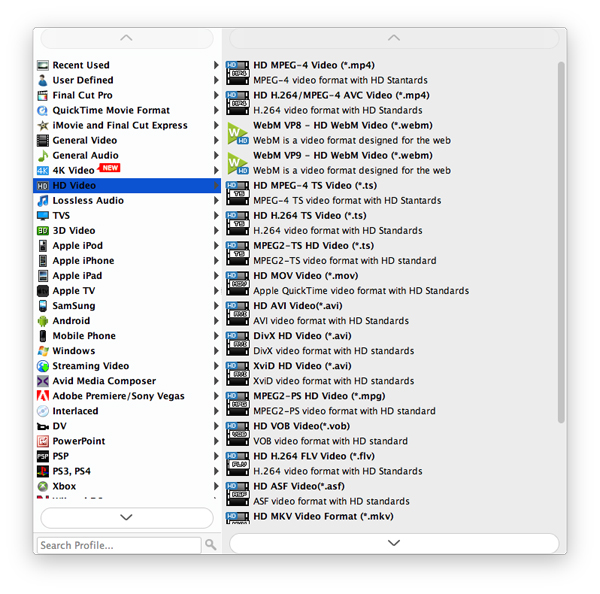 Stage 2.1 – Do some other customization
For advanced users, you can change relevant output options such as bit rate, resolution, frame rate, bps, aspect ratio by clicking the "Settings" button next to "Profile" drop-down list. If you're not interested in tweaking them, you can keep the default.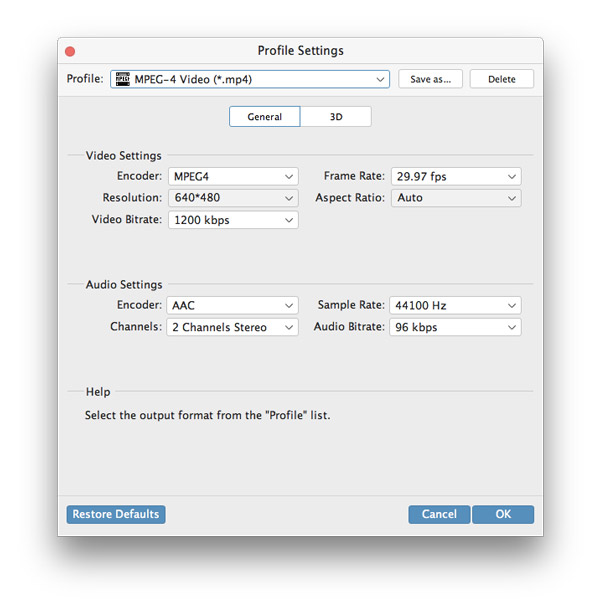 After that, click OK or Cancel to close the window.
Stage 2.2 – Use preset instead
One of the most brilliant features of this MP4 to FLV video converter is that it builds a library of presets for the type of device you will want to export, meaning you can pick it as output file without need to configure the fussy output parameters.
For example, if you wish to convert a video for playback on iPad Air, simply find the "iPad Air" profile in "Apple iPad" category and pick it, you're off.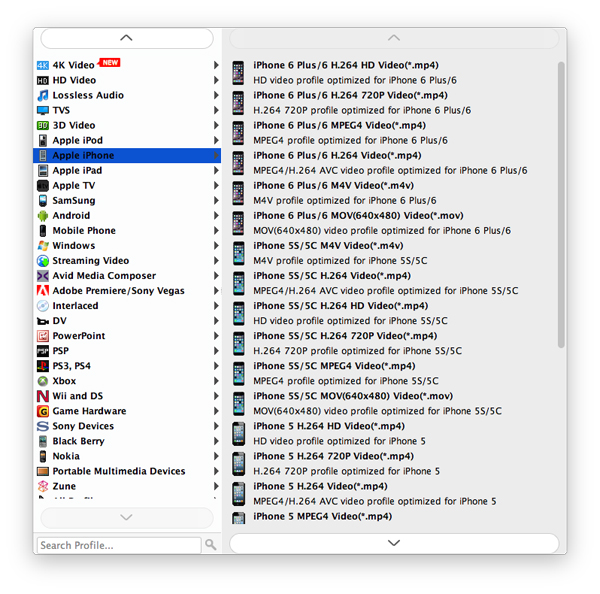 Stage 3 – Edit the video
Video editing is another useful functionality of this utility. You can enter this editing mode by click "EDIT" icon on the top menu bar of program.
As some of videos coming with unwanted black bars across the left and side (or top and bottom), you can use the "Crop" option to tack with it. There are other editing options - Trim, Effect, Watermark, 3D available for you.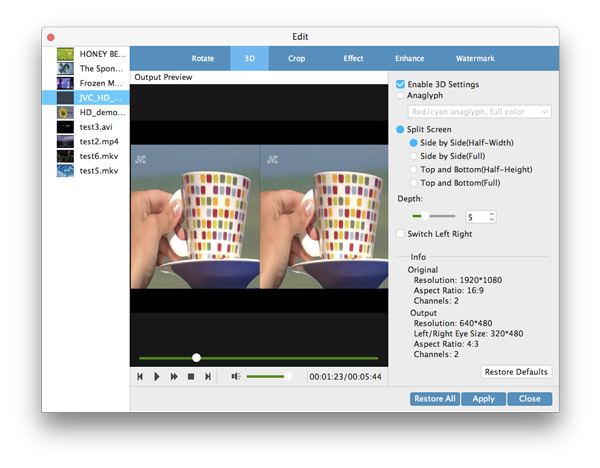 Stage 4 – Begin converting mp4 to FLV on Mac or PC
Once you have all preparations for MP4 mentioned above is ready, the next step is to convert it to FLV flash video file in your Macs or PC's by pressing the "Convert" button at the bottom right corner of screen.
The program will begin converting MP4 file to a FLV format and show you a progress bar.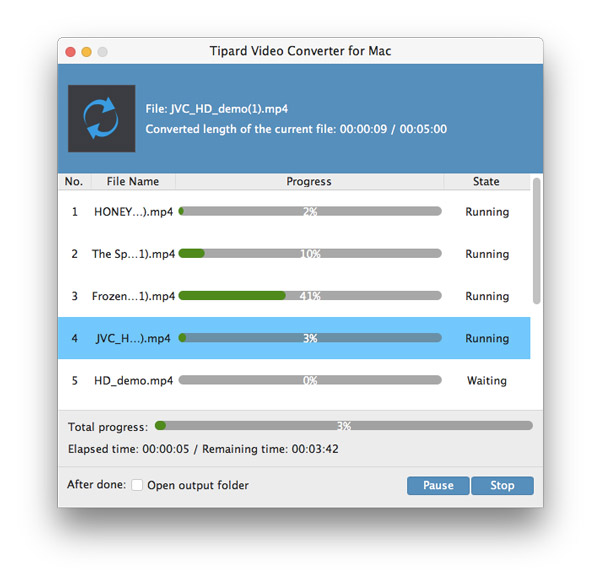 That's it!
More Tech Tips
MTS to MP4 - get AVCHD videos out of camcorder and convert to MP4 file