How to Extract Audio from MP4 to WAV File
The day it becomes all digitization. There are numerous online movie streaming and on-demand services available around our digital life. Let's say you got a favorite .mp4 video downloaded from online and want to rip into .wav format that you need to playback on a music player. Anyone who is a fan of converting videos such as MP4 to audio file like .wav will understand that this can be difficult at times. There is wide range of audio converters out there that claim to handle this issue, making it hard to find the right one.
What's WAV (Waveform Audio File) Format?
WAV is a digital audio file format standard developed jointly by Microsoft and IBM. It is used for storing audio bitstream that ends with .wav file extension. WAV is capable of containing compressed audio and high quality uncompressed audio with sampling rates and bitrates such as 44.1 KHz, 16-bit (or 24-bit), stereo format. Almost all Windows audio hardware and software support WAV audio files.
In today's discussion, we focus on Video Converter. It's a cross-platform and easy to use video converter application that makes the MP4 to WAV audio conversion on both Mac and Windows an easy, drag-and-drop affair. Aside from that, the program gives you the ability to convert videos you have lying around to different formats (See how can you convert YouTube videos to MOV format in Mac, for example) that will work on your desired player and multimedia device, and supports converting between audio file types.
The tutorial will illustrate how to extract audio tracks from an mpeg-4 MP4 or h.264 MP4 video and save in .wav on a Mac machine.
How to convert video files from MP4 into WAV file for Mac
Stage 1 – Launch the software
The time you fire up the program, you'll find its interface is pretty straightforward. There's "Drag & Drop" reminder in the middle, the necessary basic buttons on the toolbar in the top.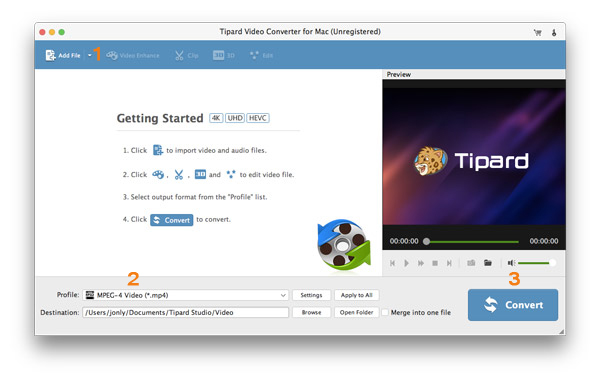 Stage 2 – Load MP4 (h.264, mpeg-4) files
To add your files into program, locate the MP4 files you want to rip, simply drag and drop them into board.
Or, from the top toolbar, select "Add File" (#1) in the left hand side to select MP4s.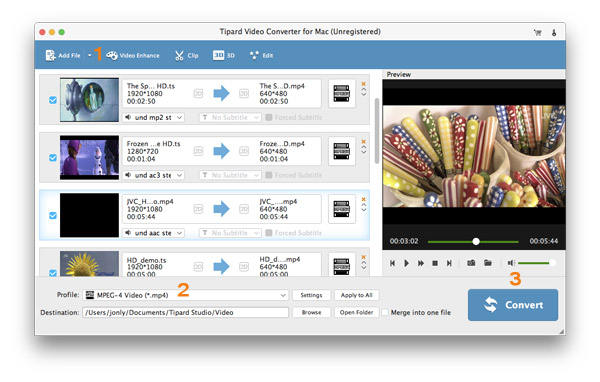 Stage 3 – Select the type of audio you wish to convert to
Click the "Profile" (#2) drop-down menu, this will bring up a window where displays almost all popular file type you need for exporting to.
For today's discussion, we need get a WAV version of MP4 video, so here pick "General Audio" > "WAV Audio" profile from the window.
If you, in some cases, want to convert the MP4 to MP3 in Mac, you pick up "MP3 Audio" in the panel instead.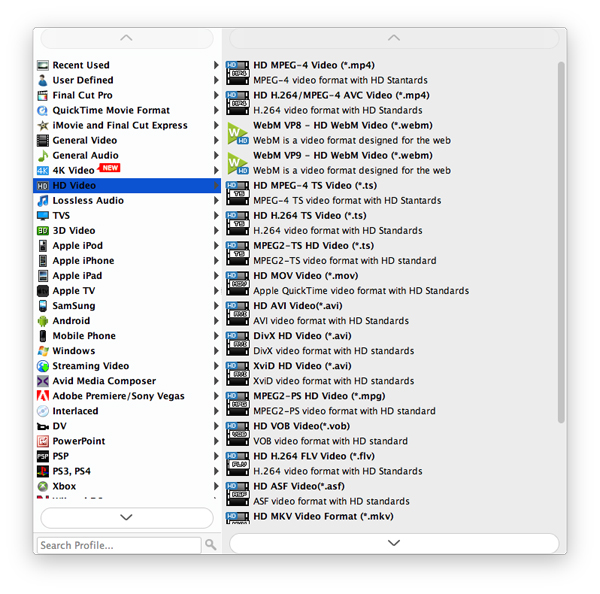 Stage 3.1 – Tweak outputs
If you know more about file types and want to get control of output audio quality, you can make tweaks to the default settings by clicking the "Settings" option over to the right side of "Profile". This is optional.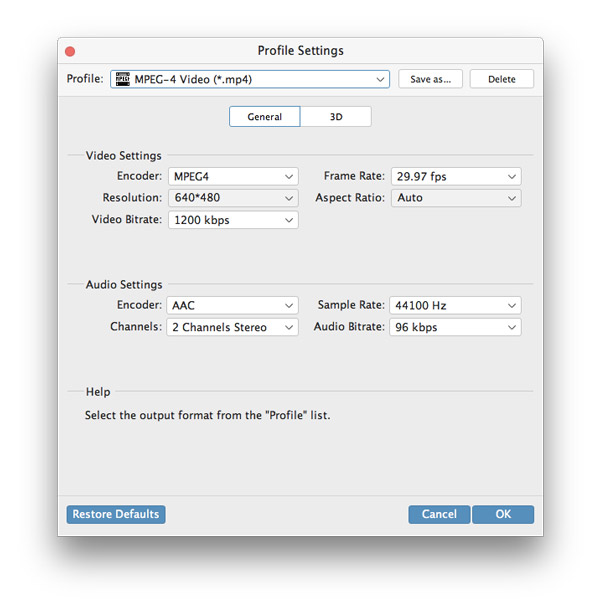 Stage 3.2 – Pick preset
This is a useful feature for most of users who want to watch movies on the latest popular players like iPhone 6 plus (2015), PS4 (2014), Xbox 360, Android phones, and more.
All you need to do is find the preset profile in corresponing category and pick it as output and you're ready to go to the next stage 4.
You can also refer to how to convert AVCHD to videos for YouTube using YT preset.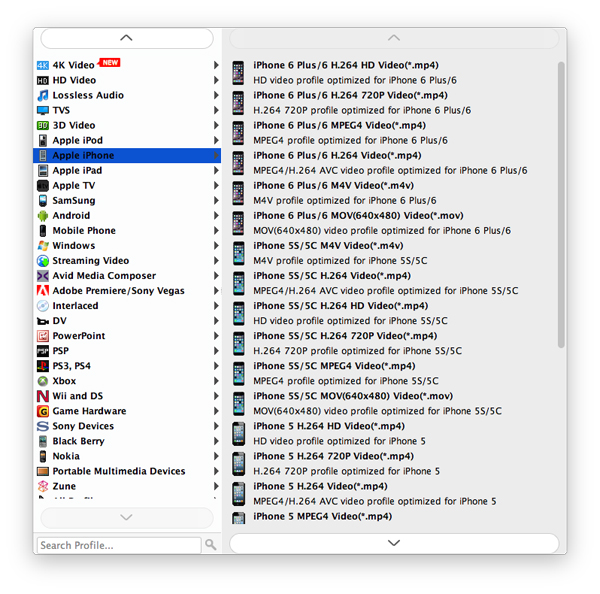 Stage 4 – Start the extraction
Once your done adding your MP4s and specify WAV audio format (or preset) you want, from the top toolbar, press the blue "Convert" (#3) button in the lower right corner to begin converting h.264 MP4 or mpeg-4 MP4 to WAV on Mac OS X.
Make yourself a cup of coffee and wait.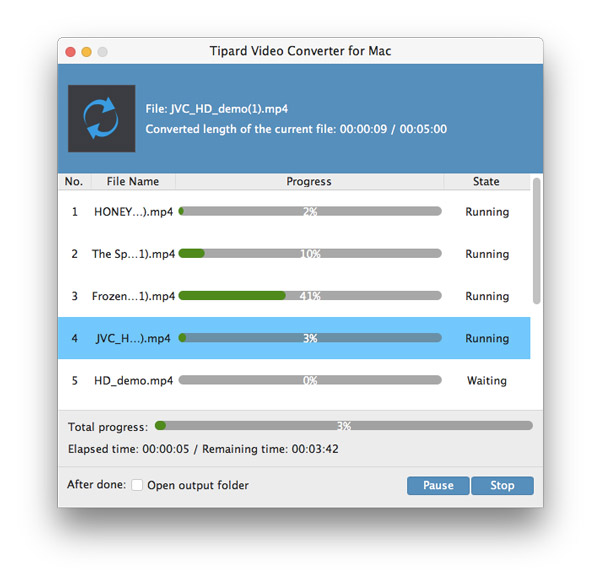 Wait until the conversion complete, then you can play the new WAV files on a music player anytime and anywhere.
Related Articles
More Tech Tips
VOB to MP4 - user guide show you how to transfer the videos in .vob to an mp4 format for Mac