How to Convert AVCHD to Upload onto YouTube
The AVCHD files (H.264/MPEG4, 1080p/720p) captured on the camcorder can give you excellent video image performance. It is good but it's not as flexibility as you want it to be. If you've recorded an AVCHD footage on a holiday, if would be nice to upload it from your camcorder to YouTube. However, the raw AVCHD files will not be in a desirable format that YouTube accepts, and the AVCHD video will probably be too big that have exceeded the maximum file size you'll be able to upload to YouTube.
Visit YouTube Help files at: Recommended resolution & aspect ratios, video duration, and supported formats.
YouTube only supports MP4, AVI, WMV, MOV, FLV, WebM video files, so many of the digital videos you store on local media collection, such as MKV, ASF, VOB, AVCHD can't be uploaded directly to YouTube. If you intend to share AVCHD onto YouTube site, the simple and easy way to do is you convert the AVCHD file into YouTube readable formats on your Mac or PC, particularly .flv and .mp4 for its size and image quality.
Our pick of the video converter in this article is Video Converter. It's a richly-featured and easy-to-use application that handles an extensive list of video formats, regardless of your requirement is to convert AVCHD to YouTube for Mac OS X, or just on a PC machine. Also, the tool comes with lots of device/apps export options without fiddling with any settings, using as few clicks as possible.
There are also some advanced filters to perform (AVCHD) video editing before you uploading onto YouTube, including "trim, "Crop", "Watermark", "3D", and "Effects" – a very useful extra.
So now that you have downloaded the right version on your computer, let's show you the ridiculously simple steps to get your AVCHD videos converted to YouTube files on Mac and Windows.
How to convert AVCHD for uploading onto YouTube site in Mac/ PC
Stage 1 – Drag and drop AVCHD footage to the converter
Drop your AVCHD recording sources into the program's window and it should appear in the list. But the program also has an "Add File" button on the top menu bar which allows you to manually import individual AVCHD files or an entire folder of AVCHD collections.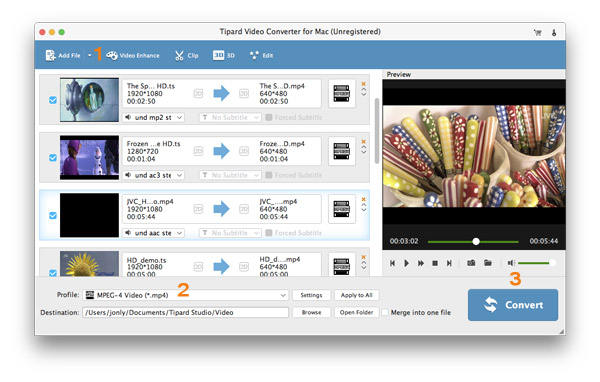 Edit the AVCHD video prior to converting for YouTube
Your AVCHD footage can be edited using the program's video editing tools on the top menu, which include trimming, cropping, 3D, joining, rotating, enhancing features.
If you intend to select an exact part of the AVCHD to upload onto YouTube for example, you hit the "Clip" image icon, there will be a window open, allowing you to set the start time and end time exactly.
And when you click the "Video Enhance" or "Edit" icon you will enter the Editing window like the screenshot shown below. 6 filters are available for you to perform basic edits in the file: Rotate, 3D, Crop, Effect, Enhance and Watermark.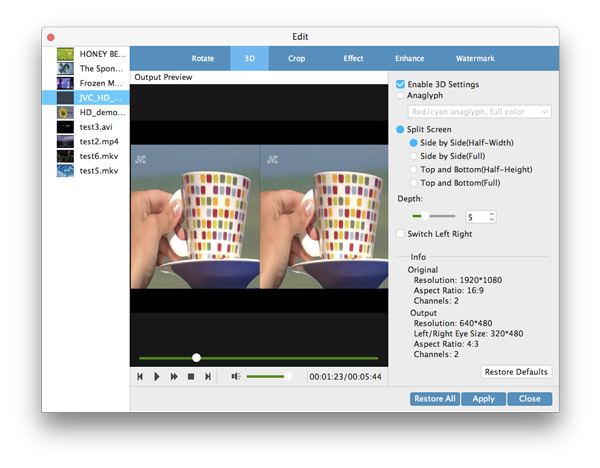 Stage 2 – Pick YouTube file in "Profile" drop down menu
Once you have AVCHD source files in program's window, click the "Profile" at the bottom left side. This will open a window where you can choose export format you want.
For the purposes of today's discussion, we choose YouTube Video (*.flv), or YouTube Video (*.mp4) from "Streaming Video" list.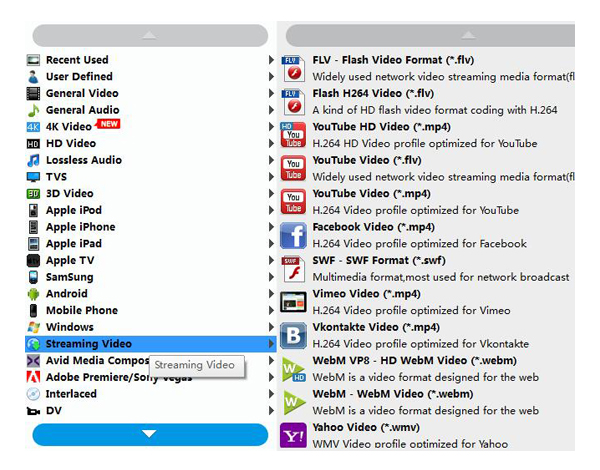 The default settings behind the output format you choose are optimized already and will give you a great quality result after conversion. However, these settings can be changed if you want absolute and total control over your video via "Settings" (next to "Profile" in the interface) before the conversion of AVCHD for YouTube on Mac & PC.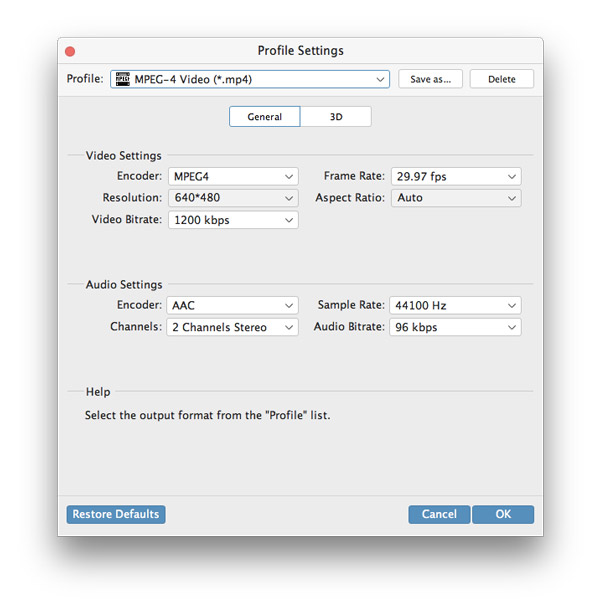 Convert AVCHD for device of your choice
It's not surprising that programs out there have pre-set device options available when it comes to converting AVCHD or other movies for playback on a device, so does this AVCHD converter. You will find a wide range of presets listed at the left portion of window as shown below:
The program has the most up-to-date support for multimedia devices including Apple iOS products, Android phones, Xbox One (released in 2013).
Let's say you want to stream AVCHD to iPad, for example, simply choose an iPad preset from the Apple iPad list. This will automatically setup all the required output settings.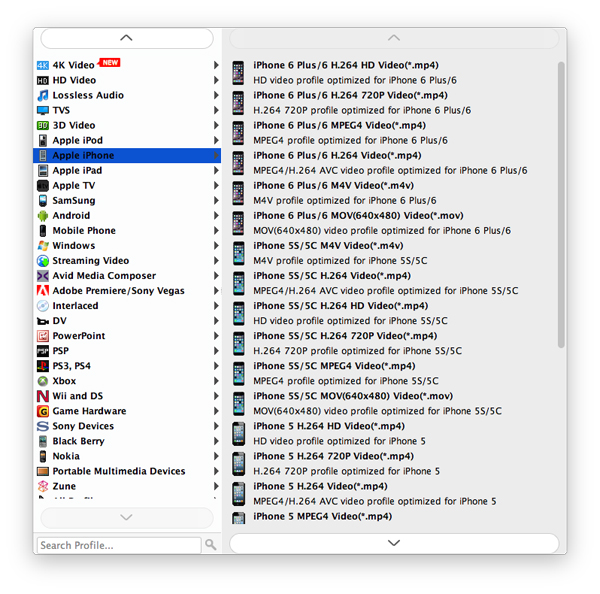 Stage 3 – Click the "Convert" button to start process
Select the location to save the videos through clicking the "Browse" in "Destination" box at the lower-left corner.
All you need to do now is hit the blue "Convert" button at the bottom corner and wait for it to finish.
The conversion of AVCHD to YouTube on Mac/ PC will take just a little time, depending on the settings, how large of your AVCHD movie files, and your Mac power.
Leave the program to do its thing and go for doing your other works.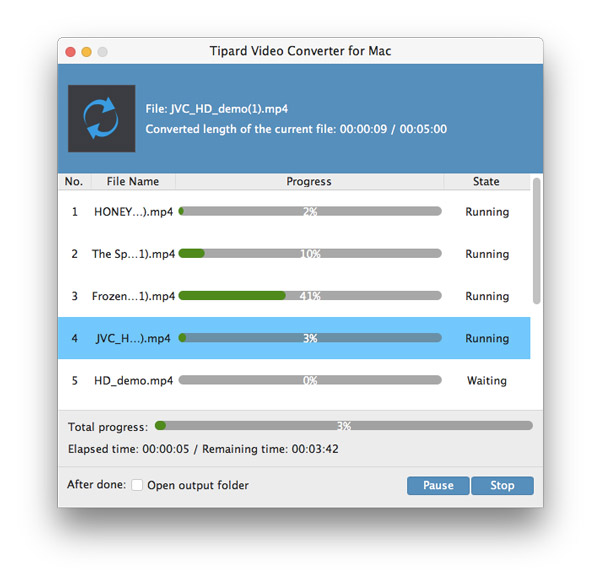 After your AVCHD has been converted to YouTube video successfully in Mac/ Windows, now we get to go to YouTube website, log in to your YT account, and upload the file(s) to your favorite channel.
If you need the AVCHD video to be in MOV (Apple QuickTime Movie format), check: how to convert AVCHD to MOV video on Mac OS X.