How to Play Blu-ray onto Xbox One and 360
Blu-ray is one of great options at present to enjoy full quality 1080p movies, but it carries with complex protection mechanisms, which limits you to use it. You will need to invest in a Blu-ray drive on your BD player provided the region code matches for your smart big TV. It is less convenient once you want to stream those Blu-ray movies onto Xbox One (or previous Xbox 360) or slip them in your pocket as you spend a road trip.
Like many of BD fans you have probably amassed a large number of Blu-ray movie collections in your lounge room over the years, but are now looking a way to make the Blu-ray content available digitally for so that you can stream them on Xbox One & 360 or other mobile players you happen to have.
As we know, Microsoft official only supports a limited range of file formats for Xbox One and Xbox 360 like WMV (HD), H.264 AVCHD, MPEG-4, AVI, 3GP, MKV, MOV, so to watch movies in Blu-ray onto Xbox One and 360, you're required to rip the Blu-ray and convert to those mentioned file formats. Luckily, there are several options and utilities to help remove the encryption on Blu-ray and extract the movies to play on Xbox One & 360.
Three Things You Need
Copy removing and video converting tool. Blu-ray Ripper we'll use in this article is a friendly and efficient program. It does exactly what you expect it should do, and that is to rip your DVD and Blu-ray disc to Xbox One & 360 supported format that will be easily playable on console Xbox. It's easy to make digital backups of your Blu-ray movies and convert to virtually any type of video files. It also comes with several preset profiles used for portable gadgets such as iPad, iPhone, PS4, PS3, Surface, Android phones/ tablets, game consoles.
Enough free hard drive space to save the ripped Blu-ray movies. If you rip the entire disc, it could consume as much as 50GB of space or more.
A Blu-Ray Drive. You need a BD drive installed/ connected to your PC or Mac to read the Blu-ray discs.
Now, let me walk you through the basic steps to get a Blu-ray ripped to Xbox 360 & One files.
How to Convert a Blu-ray and Stream onto Xbox 360 & One
STEP 1
Add Blu-ray (or DVD) to program
Put the Blu-ray disc you want to rip for Xbox One (or 360) into the BD drive, and fire up the program. Hit "Add Blu-ray/DVD" (#1) button on the top left menu of the main screen and browser the drive.
The Blu-ray will then be analyzed and show you all of titles. Select the title(s) that you want (the largest one in size is generally the main movie) and click OK to import into the program.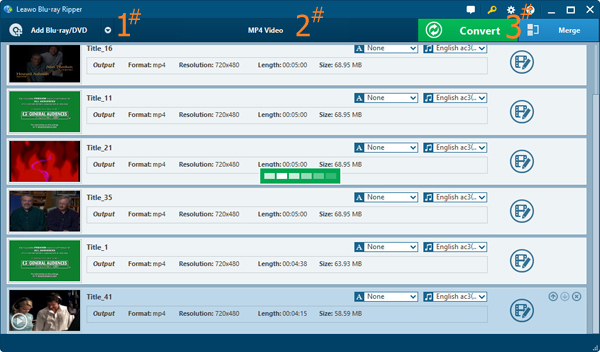 STEP 2
Select Xbox One or Xbox 360 profile from output panel
The software comes with a wide range of preset profiles, which takes away most of the guesswork. Luckily, the program has Microsoft-targeted preset options. At this point you can keep things simple by choosing a preset.
Click on the "MP4 Video" button on the top middle of the screen, this will display a drop-down menu like so: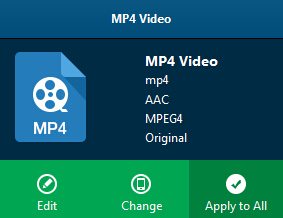 Next, hit the "Change" button to enter the format list window.
Switch to "Device" tab, and find "Microsoft" category, simply select Xbox One or Xbox 360 from the list.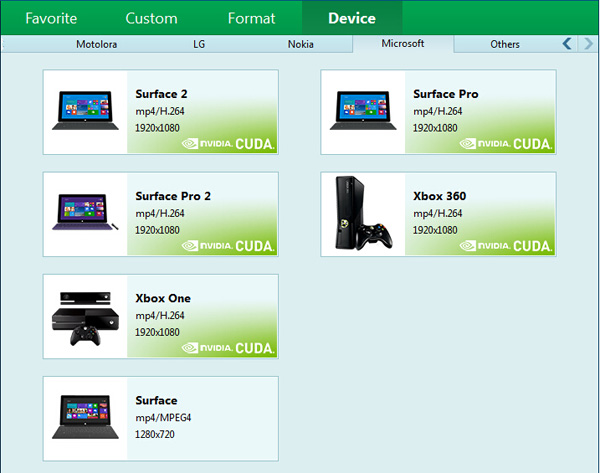 Alternatively, from "Format" tab, you can choose to rip the Blu-ray to an Xbox 360 or One readable video format like Blu-ray to MP4, WMV, AVI. It's your freedom. Personally, I would use the default preset which works just fine.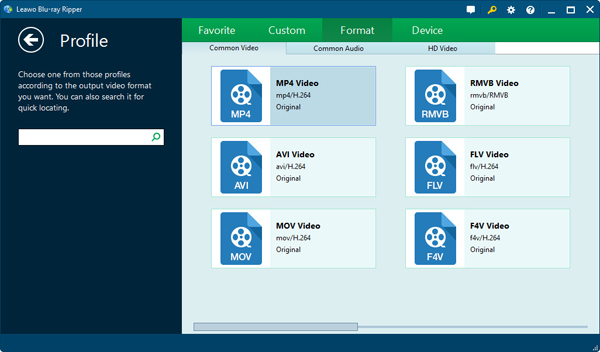 STEP 3
Convert Blu-ray to Xbox 360 or Xbox One file
Lastly, to start the encoding process, press "Convert" button (#3) and wait for a ready rip. The process of ripping Blu-ray movie into Xbox One and 360 video file will take couple of hours depending on the file size of the title(s) and your computer power. You can go about your business until the job is done.
In my experience, having it run overnight is a good idea since sometimes it requires a lot of time to rip a high-definition 1080p Blu-ray disc that contains 25GB - 50GB data.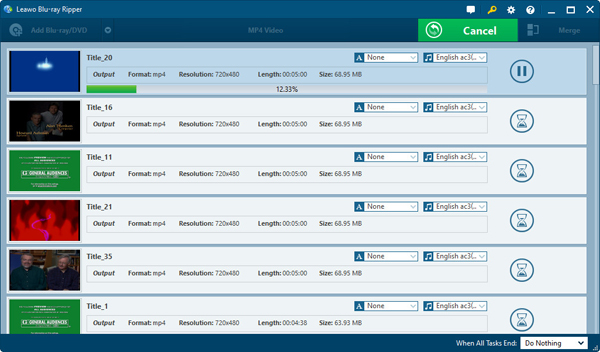 After the conversion complete, you will find the new created files saved on your hard drive. Simply put them onto your Xbox 360 or One console to enjoy them.
That's it! BTW, you may use the software to rip your Blu-ray to YouTube video on Mac, or convert to a FLV, H.264, QuickTime MOV format, as well as audio files including FLAC, AC3, MP3, WAV, and others.