How to Rip a DVD / Blu-ray to MOV on Mac & PC
Blu-ray has succeeded the DVD format over the past few years since the high definition 1080p spread around the world. It's capable of storing massive amount of data and HD movies from 25 GB to 128 GB, however, Blu-ray has more complicated algorithm than DVD on protecting contents from copying, which makes it difficult to watch the Blu-ray movie on QuickTime, Windows Media Player and other common desktop players.
Today, the purpose of this topic is focus on rip the copy protection and convert content of Blu-ray into MOV file on Mac and PC machines. This gives your flexibility to stream movies without the Blu-ray player software.
Ripping a Blu ray to MOV format in Mac or Windows can be a nightmare if you don't get the right direction. Thankfully, there are great utilities you can try to make the process easy and give you .mov files (or other popular formats) that are playable on device of your choice. Read more about how to rip Blu-ray to AVI format.
The following method will walk you through the steps on how to rip Blu-ray movies to HD MOVs for Mac, the method is easy enough for both advanced user and newbie - it doesn't require using the combination of several applications to rip the Blu-ray disc, transfer and shrink the movie contents into some sort file format with playback capabilities.
What You Will Need:
A nice Blu-ray to MOV converter application. There are a ton of Blu-ray disc ripping and encoding programs out there, but I'm always sticking with Blu-ray Ripper. It rips both Blu-ray disc and DVD, and converts DVD & Blu-ray movies into MOV digital format in one stop, and even gives you the ability to convert to other digital video types such as Blu-ray to Mac M4V, AVI, MKV, MP4, WMV.
Hard drive space. As Blu-ray disc has storage of large amounts of data and video, the amount of free space required will vary with Blu-ray you have, but for a standard dual-layer disc, 60GB+ of space should suffice.
Get a Blu-ray drive if you don't already have it. Keep in mind that since Macs haven't shipped with optical drive for years, you need to get an external USB Blu-ray drive to ripping Blu-ray disc into .mov on Mac OS X.
How to rip and convert Blu-ray to MOV QuickTime file on Mac
STEP 1
Add Blu-ray content into the program
To get started, hit the Add Blu-ray/DVD (#1) button and find the Blu-ray drive path.
Then the program will scan through the disc (should take about one minute around, depending on the content), once it's finished, you'll a list of the titles on the disc. Simply select the title with largest file size and other titles you want to rip to load onto the program window, see screenshot below.
Tip: the main movie always has a biggest file size and longest duration.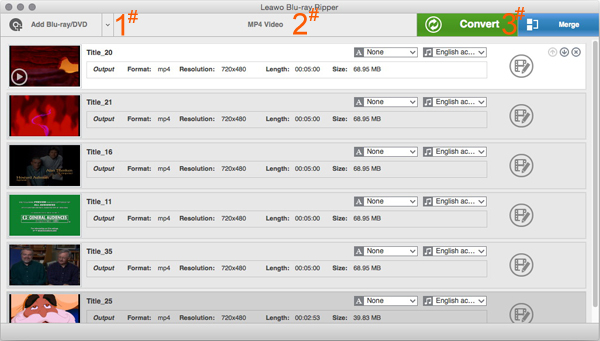 Note: The program supports ripping both BD and DVD disc, so here you can also import DVD sources to rip.
STEP 2
Set the container to Mac MOV
This step is pretty easy - choose an output format for the resulting video.
Click the default MP4 Video option on the top middle of the main interface, a drop-down menu will open. Click the Change button.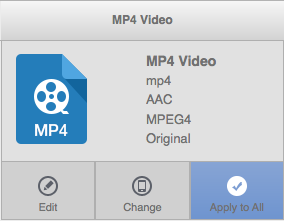 Another window displays showing a full list of formats. Select Format > Common Video > MOV Video. Or choose Format > HD Video > HD MOV Video as export format.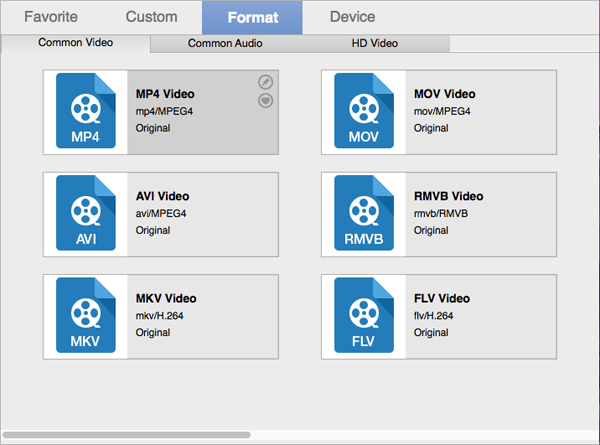 Next, optional, move your mouse to the format, click the pen icon on the top right corner to bring up a new window — here you can fine tune the output size and quality of your video. To get Blu-ray converted to Mac MOV file at full, 1080p, Blu-Ray quality, you'd better keep their original defaults.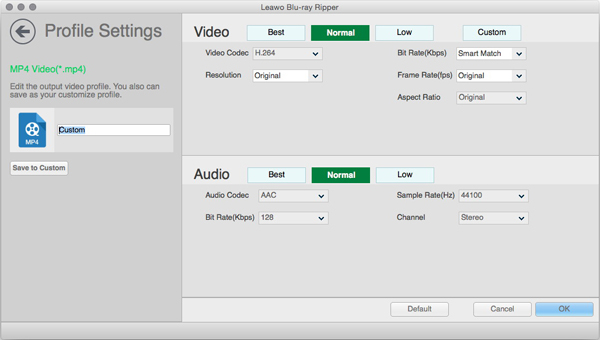 STEP 3
Convert your Blu-ray to MOV on Mac
When you have all previous steps set how you want, click the Convert (#3) button at the top. A new sub-window will then open requiring you to select a directory to save the resulting files. Once you have chosen the file's destination, click on the "Convert" button again to start transferring your Blu-ray movies to .mov digital file. A grey bar will show you the progress of the encoding.
Converting Blu-ray to MOV in Mac can take a long time, so go for a drink and let the program work itself. The more RAM you have will help a lot, as will a fast processor.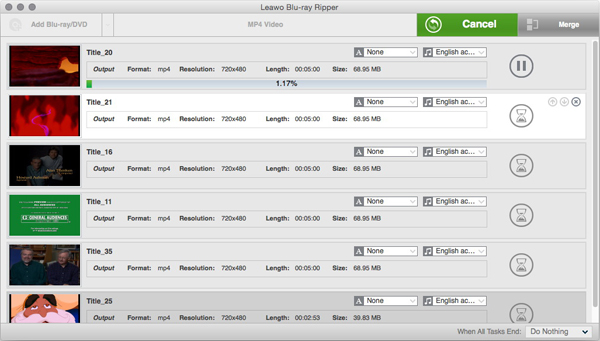 When the conversion complete, you can watch the new created file from Blu-ray on QuickTime Player. I recommend going through the movie to verify the quality is good.
That is it! Enjoy the MOV movie!