How to Rip a Blu-ray to Sony Vegas Pro
If you have a bunch of Blu-ray discs sitting on bookshelf in your room, you might be wondering if there was a way to convert the favorite full HD 1080p movie contained in the Blu-ray to a workable video format so that you will edit in Sony Vegas Pro 13/ 12/ 11 (professional level) or Movie Studio 13 (consumer level), a video editing software package for non-linear editing.
However, Blu-ray itself carries with encryption protection such as MKB protection (AACS and BD+), making the playback can be difficult to impossible without Blu-ray player, let alone edit Blu-ray movie on Sony Vegas Pro or Movie Studio. You're not allowed to extract the movie content out of the disc and watch it on your normal media player, popular tablets, mobile phones and game consoles.
In order to rip a Blu-ray to Sony Vegas Movie Studio 13 or Pro 13, you basically need two piece of software: One to bypass the copy protection, and another to rip your favorite Blu-ray movies to a more flexibility format that Sony Vegas Pro or Movie Studio will native support. Luckily, there are lots of tools capable of making both ripping and converting process all in one place.
One of our favorite applications, Blu-ray Ripper is a multithreaded tool that ensures perfect rips of Blu-ray and makes digital backups of Blu-ray movies to be imported into Sony Vegas Pro/ Movie Studio 13. It also converts the Blu-ray video files into almost any other imaginable format easily and quickly.
What You Will Need:
Get a Blu-Ray drive to read BD discs, since a DVD drive won't read them.
Make sure you have enough hard drive space on your computer. A Blu-ray will hold up 25 - 50GB of data. Extracting the content from a BD disc will consume a significant amount of storage space. An external hard drive is also OK.
The steps below show an example of ripping Blu-ray and convert Blu-ray movie files to a format that Sony Vegas Pro or Movie Studio will accept.
STEP 1
Load Blu-ray content
Launch the Blu-ray Ripper, you will see a simple and easy-to-use program interface, with intuitive navigation and a familiar layout.
Place your Blu-ray (BD-R, BD-RE) into the tray, the program will automatically scan the disc for a while and present you with a list of titles it's found.
Hit the "Add Blu-ray/DVD" button on the top left corner of interface, this will open a dialog box where you select Blu-ray titles you want to rip for copying into Sony Vegas Pro & Movie Studio. Generally speaking, the movie you want is the longest of the available titles.
The program supports all the different variations of Blu-ray source files, including Blu-ray ISO, Blu-ray Folder. You can also put DVD disc into the drive for ripping.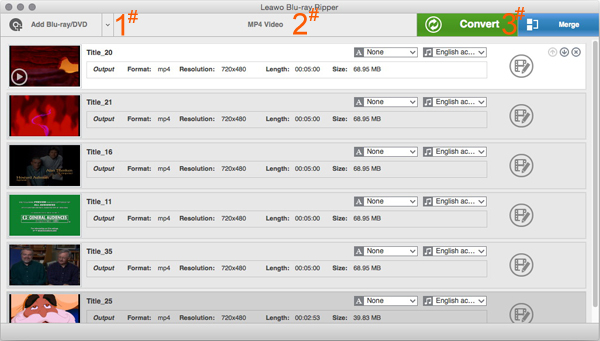 STEP 2
Choose a Sony Vegas Pro/ Movie Studio readable file type as output
Vegas Pro software supports a variety of video file types such as MP4, WMV, AVI, M2TS, MOV, H.264, AVCHD, Sony MXF (XDCAM and HDCAM SR), MPEG-1 and MPEG-2 video, so in this step, you will have a lot of output choices, depending on your own requirements.
Check out the Sony official document: file types that Vegas Pro 13 will open.
To select an output format profile click the "MP4 Video" button on the top middle of interface, in the opening drop-down menu hit "Change" to enter profile-selecting window like this: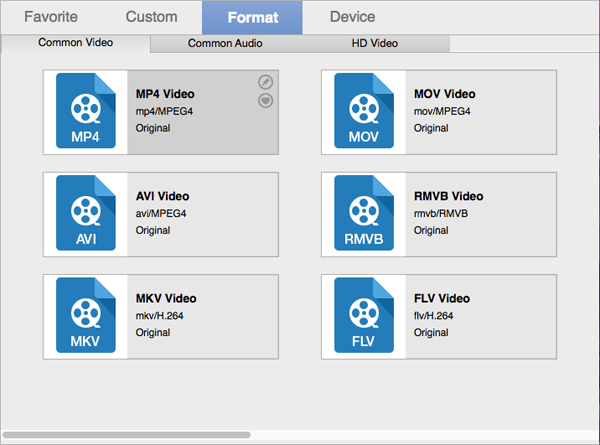 As Blu-ray movies are high definition, to preserve the image quality you here go to Format > HD Video and pick a desire format option such MP4, AVI, MOV, etc.
It's worth noting that if you want to rip Blu-ray to watch movies on a chosen device, such as Blu-ray onto iPad, iPhone, Apple TV, Xbox One, PS4, Surface tablets, Kindle Fires and others. You can directly choose one of the already saved presets from the format panel in "Device" tab.
Now it's time to tweak the output video settings including video codec, resolution, bit rate, aspect ratio, sample rate to suit your needs. This can be done by clicking the PEN icon at the upper right-hand corner of format profile you select. Then you will see a window like below. This operation is optional.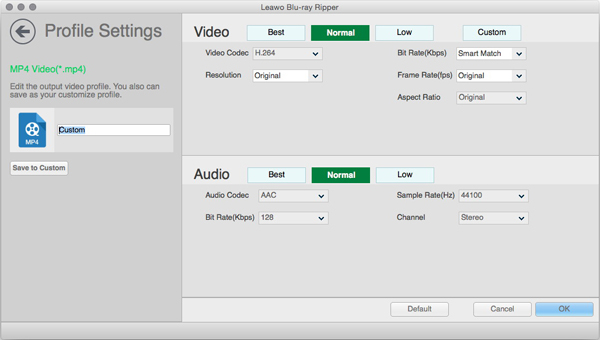 STEP 3
Start converting Blu-ray movies to Sony Vegas Pro file
Finally, click the green "Convert" button, this Blu-ray converter will pop up a dialog asking you to select an output folder to save the resulting files or just keep the default path.
When everything are ready, again, click the "Convert" button to begin converting Blu-ray to a Sony Vegas Pro/ Movie Studio readable file format on your computer. You can go off to take a cup of coffee or have a rest as the process can take anywhere from a few minutes to hours, depending on the length and visual complexity of the movie content, you conversion settings and computer specs.
After the process finished, simply add the new created files from the folder you set earlier into Sony Vegas Pro for editing.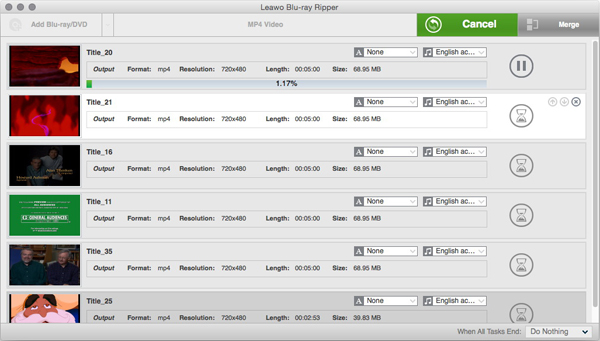 Vegas software family: Vegas Pro 13 Edit, Vegas Pro 13, Vegas Pro 13 Suite, Movie Studio 13, Movie Studio 13 Platinum, Movie Studio 13 Suite, DVD Architect Studio 5.0, Vegas Pro Production Assistant 2, The Seminar Series: Vegas Pro 12, Vegas Pro 13 Competitive Upgrade. See more at: http://www.sonycreativesoftware.com/vegassoftware