How to rip Blu-ray Movie to Adobe Premiere Pro
When you're talking about film and video editing, Adobe Premiere Pro is one of the go-to programs that can't be ignored, no matter you are an amateur or a professional filmmaker. It's a professional timeline-based video editing software application, part of the Adobe Creative Cloud, that allows users to do almost everything of editing you can imagine on videos and movies.
If you have a couple of Blu-ray discs you might want to extract the content from the Blu-ray to be able to access to Adobe Premiere CC 2015/ 2014 (or Adobe Premiere Pro CS 6/ 5/ 4) For editing. Unfortunately, it appears that to edit or work with these Blu-ray movies on Adobe Premiere users will have to bypass encrypted protection covered on disc before getting a digital copy, and that is precisely what we will discuss today.
The current software options for ripping a Blu-ray and convert the content to load onto Adobe Premiere Pro are virtually endless. One of our favorite - Blu-ray Ripper is quite easy to use. It features a clean and intuitive interface that's easily manageable. It's capable of cracking the protection on DVD/ Blu-ray and converting the movie files into a slew of popular formats including MP4, MOV, MKV, WMV, AVI, FLAC, AC3, MP3, etc. With its preset profiles, video conversion can be achieved easily in just a few mouse clicks.
Please note that you already have a Blu-ray drive hooked up your computer and working, and enough hard disk space (30 - 50 GB or above) is ready for saving the resulting movie files you rip from Blu-ray disc.
Here we go for the detailed steps to rip Blu-ray movie files to be imported into Adobe Premiere CC 2015/ 2014 (or Adobe Premiere Pro CS 6/ 5/ 4). Also see Blu-ray player for Mac and PC.
STEP 1
Rip the Blu-ray disc and load movie contents
Insert the Blu-ray disc you want to rip, and launch the Blu-ray Ripper.
Click the "Add Blu-ray/DVD" button on the menu bar, the software will analyze the entire Blu-ray disc and display all the available titles. In general, the movie you want is the longest of the available title. Select it to import into the program window.
It should be noted that many Blu-rays have multiple language tracks available. After the title imported into the program, you can see them in the item list. And you can choose in which language you want to keep or leave them by default.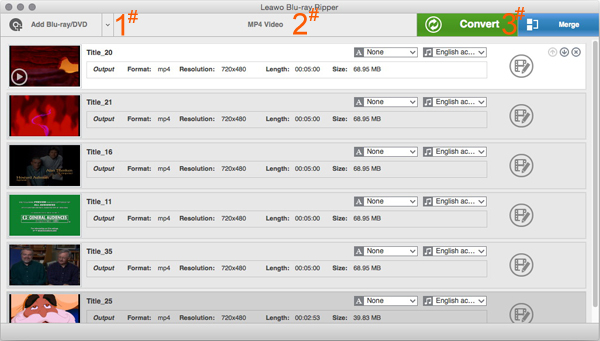 STEP 2
Select an output format
Since you've completed the load of the Blu-Ray movie file, you'll now need to pick an output file format. In this article, we need to convert Blu-ray to Adobe Premiere Pro CC friendly format such as MP4, MOV, WMV.
You can see the full list of supported native video and audio formats for Adobe Premiere Pro.
Click the "MP4 Video" button on the menu bar, this will bring up a drop-down list where you click the "Change" option to display format list window like this: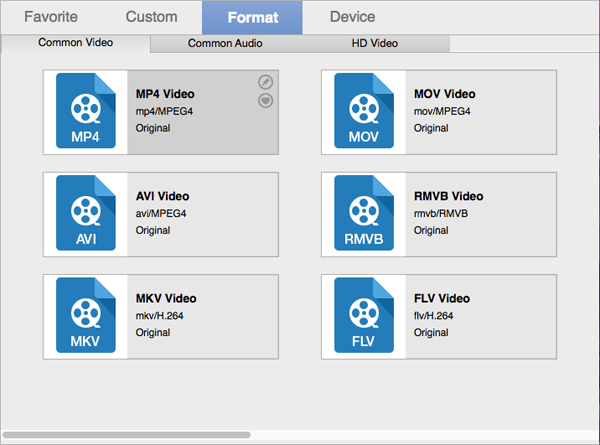 Then in "Format" tab, we select HD Video > MP4 Video (H.264 AVC/MPEG-4). For those who want to put Blu-ray movie files onto a device of playback, you can check the preset profiles, which have the settings optimized for specific devices, including gadgets running on Android and iOS. Here's our detailed walkthrough on how to play Blu-ray onto Xbox One or 360.
For advanced users, by clicking the Pen icon on the upper corner of format profile you will go to profile settings panel where a convenient selection of converting settings available to control over the video and audio output.
If you want to get a smaller exporting file, for example, you may want to consider adjust the resolution from the native 1080p to 720p n "Resolution" box, which will affect the file size pretty heavily. 720p is still HD but takes up quite less space on your hard drive.
Other options like bit rate, frame rate, aspect ratio, channel are all available on the panel.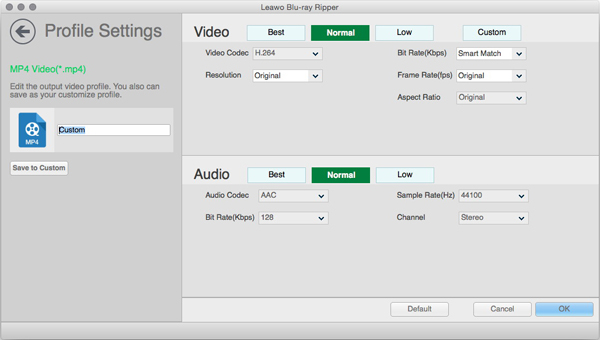 STEP 3
Begin converting Blu-ray movie to Adobe Premiere Pro CC
Lastly, click the green "Convert" button, it will pop up a dialog to require you to specify a path for saving the output video. Make sure the location is correct. Again, click the "Convert" button and wait till your final video is ready.
In my experience, converting a Blu-ray disc to Adobe Premiere Pro CC video file took about one hour for a two-hour movie, but it will vary depending on your computer's hardware and conversion settings you configure.
After the conversion complete, just open the local folder and load the video onto Adobe Premiere Pro CS 6/5 or CC 2010/2015 for editing.
That's it!