Blu-ray Player Software: Reliable and Efficient
If you're a cinephile for high-definition movies and have a collection of Blu-ray discs on your media library, chances are you might want to drop those full HD Blu-ray movie to play on Mac or PC machines, or just copy the movie content of Blu-ray to your on hard drive instead of playing them on a standalone Blu-ray player connected with your TV.
Windows - DVD and Blu-ray playback
Unfortunately, watching DVD and Blu-ray movies on a Windows PC or laptop is increasingly becoming unavailable on new shipped Windows systems by default. While earlier versions of Windows come with its own built-in DVD player application, Microsoft has removed such functionality on Windows 8 and Windows 10. As you can see, the emergence of streaming media and ultrabooks and tablets have made the amount of new computers come without DVD drives. And things get worse for Blu-ray playback — There's no built-in support for playing Blu-rays on any version of Windows (XP/ Vista/ 7/ 8/ 8.1/ 10).
It's worth noting that if you're running a computer with Microsoft Windows 8 OS or higher version, the only officially supported way to play DVD movies on Windows is you purchase the Windows 8 Media Center Pack to activate DVD playback in Windows Media Center. But that still don't give Blu-ray playing support! You will need to get third-party Blu-ray player software to handle that issue.
Mac OS X - DVD and Blu-ray playback
As we know, the more complicated encrypted algorithms covered on Blu-ray disc make it a bit more difficult to play your Blu-ray movie files on your Mac (and PC) than DVDs. However, not only do Apple not offer a Mac Blu-ray player program for Mac users, but Macs don't ship with a Blu-ray drive capable of reading Blu-ray discs.
So to view Blu-ray content on Macs, you'll have to install a thirty-party Blu-ray playing software on Mac, as well as having an external USB Blu-ray drive connected to your Mac.
DVD & Blu-ray Player for Mac OS X and Windows
While Blu-ray discs don't play natively in both Mac and Windows, fortunately, you've got a wealth of utilities out there for playing Blu-rays and DVDs on a computer. If you're looking for one that can read Blu-ray and DVD, as well as should also be able to handle video & audio formats, then Blu-ray Player Software is the tool you go with.
As a cross-platform application, the program is capable of streaming Blu-ray movies on both Mac and PC computer seamlessly, and opening your entire movie library without a hitch, no matter the format — BD, DVD, video, audio are all supported. It brings powerful Blu-ray features to the Mac and PC, giving your Dolby and DTS support that rivals a movie-theater experience, as well as chapters selection and subtitles choosing. It also gives you control over video and audio settings. Further, it supports 4K UHD video playback in MP4, AVI, MKV, TS, FLV and WebM without sacrificing picture quality.
The following is how to enable Blu-ray playback in Macs and PC's, and configure video & audio settings.
Related: How to rip Blu-ray movie to MOV file format on Mac and PC.
Part 1: How to play back Blu-ray content on a Mac & PC
Note: The playback of Blu-ray disc requires a Blu-ray drive installed on your computer. For those of you working on a Mac, you will need to get an external USB BD Drive hooked up your Mac. See Amazon Best Selling Blu-ray Drives if you don't already have it.
Playing your Blu-ray files onto the player is pretty easy just like you watching videos on a media player program as usual.
Once you launch the Blu-ray Player application on your Mac or PC machine, you will see an intuitive interface that looks very clean and easy to use.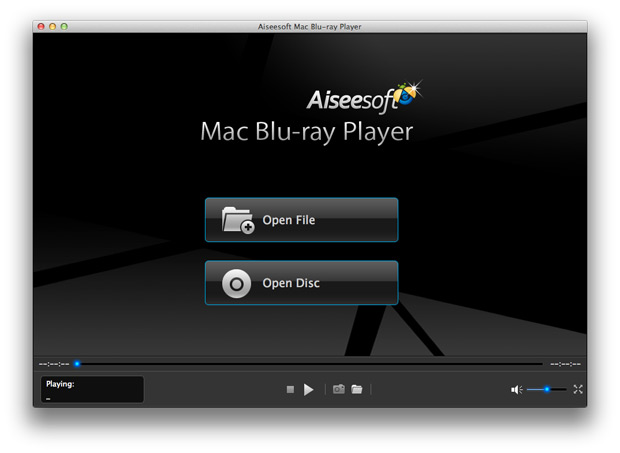 To get the Blu-ray movie in the program, click the "Open Disc", in opening dialog box, locate the movie content of Blu-ray you want to play and click "OK".
You're done! When playing Blu-ray movies on Macs or PC's, the program runs effortlessly with taking up a minority of your computer's CPU capacity.
That's it!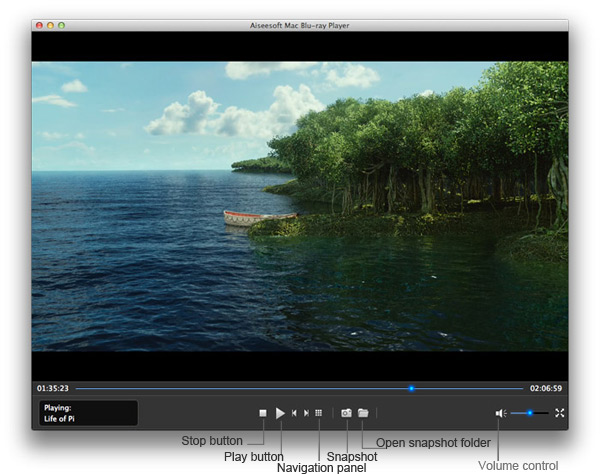 The Blu-ray player for Mac and Windows is far from the tool only designed for BD disc — Aside from playing a Blu-ray smoothly, it also serves as DVD player and video player, letting you stream virtually all type of digital video formats and standard-definition DVD discs.
An extra useful feature of the software is it enables you to capture the image from your playing Blu-ray files with the "camera" icon option in the menu bar at the bottom side. JPEG, BMP and PNG image format are supported.
Read Next: How to convert Blu-ray and rip to MKV video files on Mac & Windows
Part 2: Playing Settings
Watching foreign movies is a cinch with this Blu-ray player on Mac and Windows. By clicking the menu bar or using the built-in navigation panel you can choose any of movie chapters you'd like to play, as well as your desired subtitles if the disc has multiple languages support.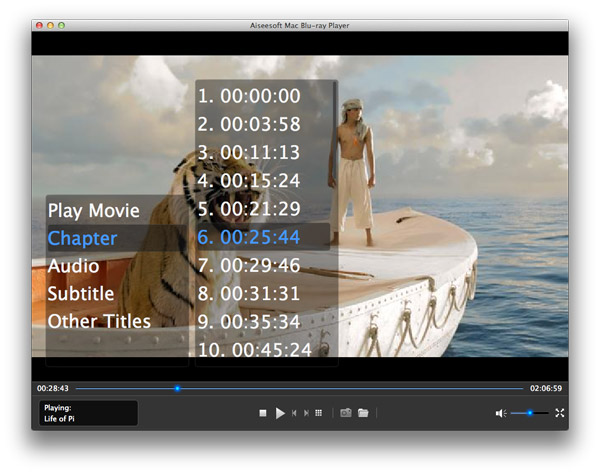 It also lets you tweak Blu-ray audio and video settings for cinema-level view experience with your home theater systems. The player supports DTS-HD Master Audio or Dolby TrueHD, meaning that you can optimize your home theater equipment like surround sound speakers and audio systems to get the cinematic or concert sound experience at home.
As can be seen from the screenshot below, in "Audio" pull-down menu you can set the audio channel options including Stereo, Reverse Stereo, Left and Right.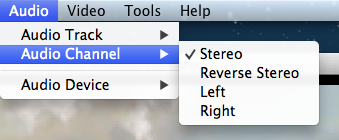 And audio device options are available such as 5.1, 2 Front 2 Rear, Stereo, Mono and A/52 over S/PDIF.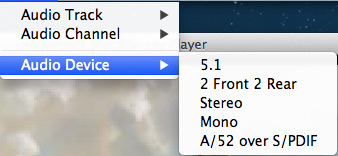 In "Video" pull-down menu, you can configure the Blu-ray video track and subtitle track, and stretch the video picture layout to fit your screen. There are 4 modes you choose from: Half Size, Normal Size, Double Size and Fit to screen. Of course, you're allowed to drag the corner of the window to resize it manually.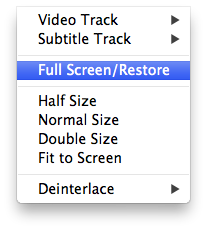 As convenient as other media players do on the market, this Blu-ray player for Mac's and PCs comes with auto-resume function. It lets you automatically start watching the movie at the same point where you leave off in a video, which makes it easy to enjoy a long duration of Blu-ray movie over a few times of break.
Note: If you're looking for a way to strip the movie content from your Blu-ray discs so that you can play on a portable device (i.e. iPad, Kindle Fire) on the go, or if you just want to store it on your local HDD for later viewing, ripping your BD discs is definitely the method to go with. You can follow how to rip Blu-ray to MP4 videos on Mac & PC, or see another article about Playing Blu-ray on iPad for a detailed walkthrough.
In Conclusion
Playing Blu-ray movie files on a Mac or PC, with the experience of navigating disc extras and menus, is fairly easy and convenient as long as you get a reliable Blu-ray player program. The player mentioned above is such a good application that plays all kinds of media files you throw at it on both Windows and Mac computers, Give it a try!