How to Rip Blu-ray to AVI File
Blu-ray disc is one of the most popular medium of choice for distributing high-definition video data, it carries excellent quality HD movies in 1080p, 1080i and 720p instead of just the 480p resolution which DVD offers.
Let me say you've spent a lot of money on your library of Blu-ray Discs, you want the Blu-ray converted to AVI files so that you then can share them with friends or play them with your smartphone on a long trip, rather than carrying along your big Blu-ray drive. How can you back up the content of Blu-ray Disc and rip to AVI format?
There are a lot of programs out there that claim focusing attention on ripping and storing the contents of Blu-ray you do have in a variety of container files. If you don't know how to decrypt, rip and transfer a Blu-ray to an AVI (DivX/XviD) on a Mac or PC, here is something that will help.
Also see: how to convert a Blu-ray to MP4 (h.264/mpeg-4) files in Mac & PC.
What You'll Need
Software to decrypt and rip the Blu-ray to AVI video. Today let us take a look at the Mac OS X software named Blu-ray Ripper . It will take your DVD and Blu-ray ripped to .avi and other more easily-accessed digital formats, whether it's to an Apple iOS device such as iPhone, iPad, or to PS3, Xbox 360, Android smartphones, tablets. The complete operation is user friendly, you don't need to get down to understanding codecs and bit rates and tweaking all of encoding settings.
A Blu-ray Disc drive. Most of new PC computer especially Macs has no Blu-ray reader installed by default, you have to get one to read the disc before the ripping task begin.
Enough free hard drive space.
The following is a quick guide about converting Blu-ray into AVI for Mac. The steps in PC are similar to Mac.
How to convert Blu-ray movie to AVI on Mac OS X
STEP 1
Import Blu-ray (or DVD) source file
You simply insert a Blu-ray into the drive, open the software, choose the Blu-ray as your source by clicking "Add Blu-ray/DVD" (1).
A few seconds later, the Mac software will load the Blu-ray movie files into the window along with relevant information such as resolution, size, length, subtitles, audio tracks.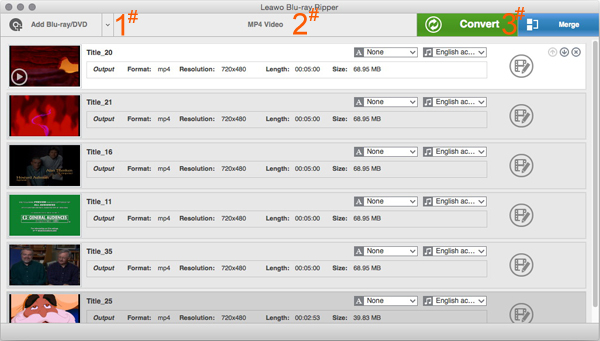 Here if you are in the know you can keep wanted subtitle tracks and audios, remove unwanted parts, and edit the video through the options at the right side of each title.
Note: The software support importing both Blu-ray and DVD disc to rip for AVI file.
STEP 2
Adjust the settings for Output Video
As you can see in the screenshot above, when you click on "MP4 Video" (2) on the top center, it will display a drop-down panel.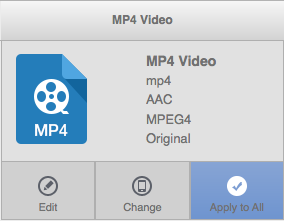 Next, click "Change" to bring up format panel. Now you can choose how you want to convert the video.
Here, we find Format Tab, and Common Video, then select "AVI Video" as the resulting target format.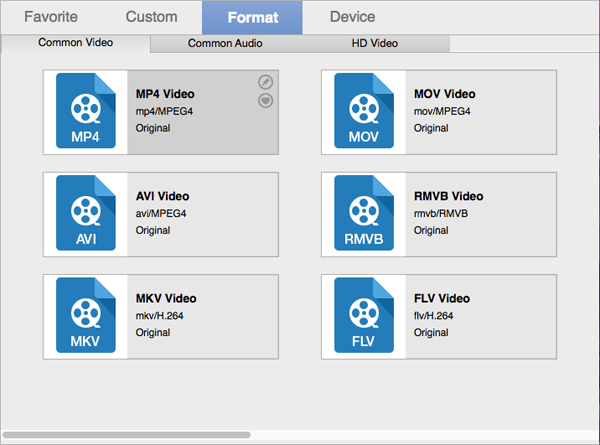 From the Device Tab, you can use preset options for the device you want to play the file on, see how to rip Blu-ray for Xbox One and Xbox 360, for example, and create your own preset with custom settings manually.
As we said before, you don't need to understand encoding parameters, the software has everything optimized. But for an experienced user, you still have the power to fine tune them.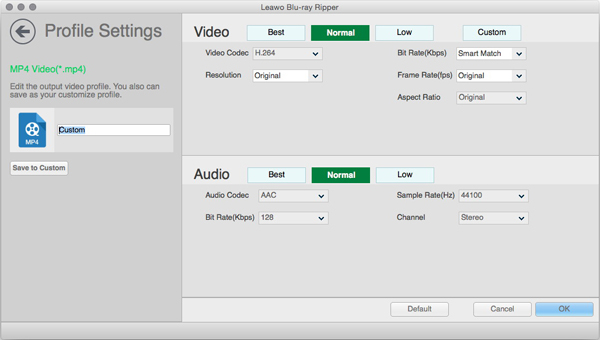 STEP 3
Convert the Blu-ray to AVI on Mac
Once ready, press "Convert" button (3) at the top right-side of the window. The Mac software will ask you select an output folder before the conversion. You give the AVI video a name and store it somewhere or keep the default path, at least 25 to 35 GB are required. After that, click the convert button again, the software will get to work.
Related: how to convert Blu-ray to YouTube videos on Mac.
You can monitor the progress through the bar beneath the title. No matter what, it will take hours to convert a Blu-ray to an AVI file type on Mac OS X.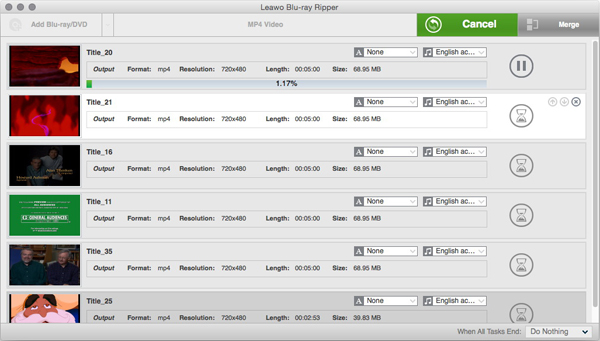 That's it!