How to Convert M4A to MP3 Audio File
M4A is an audio file extension natively used as Apple audio format used in iTunes Store and outdated iPods. It is based on MPEG-4 technology and is actually the audio layer of MPEG-4 video. The songs you stream on iTunes Store with iOS player (iPhone, iPad) are in .m4a format, these songs are encoded using advanced audio coding (AAC), a lossy compression codec that will encode file in less storage space but higher quality than MP3 file. For Mac users, there will be no any issue when it comes to playing M4A audio files.
However, as the successor to MP3 intended, M4A don't get expected popularity in digital audio distribution. It is somehow limited only to Mac-centric devices and applications. In many cases, you may need to convert M4A to MP3 file, the most well known digital audio format. MP3 is already adopted by music lovers and collectors. The MP3 format is capable of being played on almost any media player, application and handheld device, making it hard for other digital audio compression format including .m4a to replace it.
There is a list of different M4A to MP3 converting applications available across platforms for Macintosh Mac and Windows systems, but I am going to cover just one of them, which handles video & audio conversion easy and quick with a few button clicks. Video Converter is a cross-platform program. In addition to converting from .m4a to mp3 format on Mac and PC, the software supports a large number of input audio file types such as WAV, FLAC, WMA, MKA, AIFF, AAC. As the name suggests, it also converts video streams in one kind of file type into another. Besides, it provides output presets for a library of different devices.
See below the instructions about how to convert a M4A File to MP3 audio format for Mac, for example. The process in Windows is actually the same as in Mac.
In Windows environment, some of you may want to convert M4A to WMA audio in some cases since .wma is a Windows natively readable audio format, you can also use the utility to handle the conversion.
How to convert M4A audio to MP3 Audio in Mac computer
Every time you open the program, you will see a main screen like this: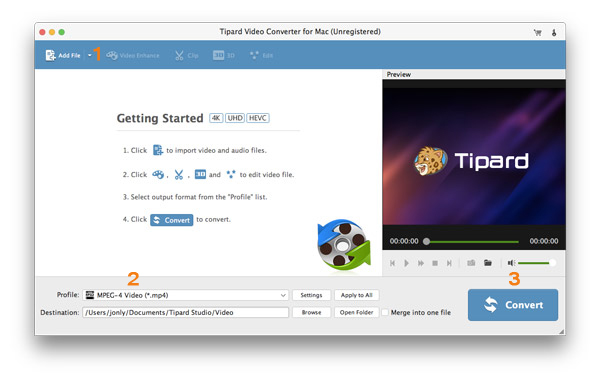 Stage 1 – Add M4A audio tracks
To start, drag and drop M4A music files – or any other audio files – into the drop zone where saying "Getting Started". You can also use the "Add File" button on the top bar (see #1) to add files to this M4A to MP3 converter for Mac OS X.
Once added, all of the files show up in a list in the middle of the window.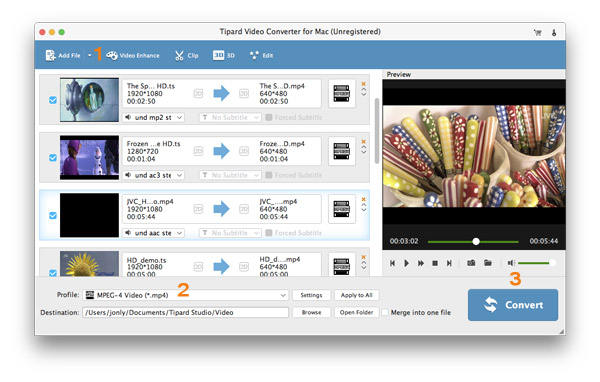 There's also an advanced option on the lower right corner (next to "Convert") to join video or audio files all together so that you will get a single big file.
Stage 2 – Choose MP3 as the output audio type from Format list
Now you must select an audio format that you wish the final file to be.
Click the "Profile" (see #2) drop-down menu on the lower left side to enter the format panel where video and audio format profiles are sorted.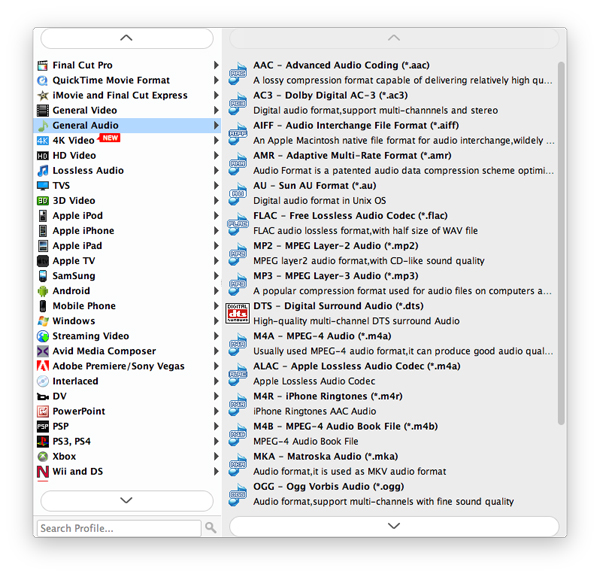 You then switch to "General Audio" category, as we just wish to get the M4A converted into MP3 file, so find "*.MP3" and pick it.
Stage 2.1 – Configure audio settings
This is not a necessary step for most of users, as the default settings are OK.
You can click the "Settings" button next to "Profile" to enter the settings window.
There are options such as audio codec, channel, bit rate (kbps) and sample rate you can fine-tune.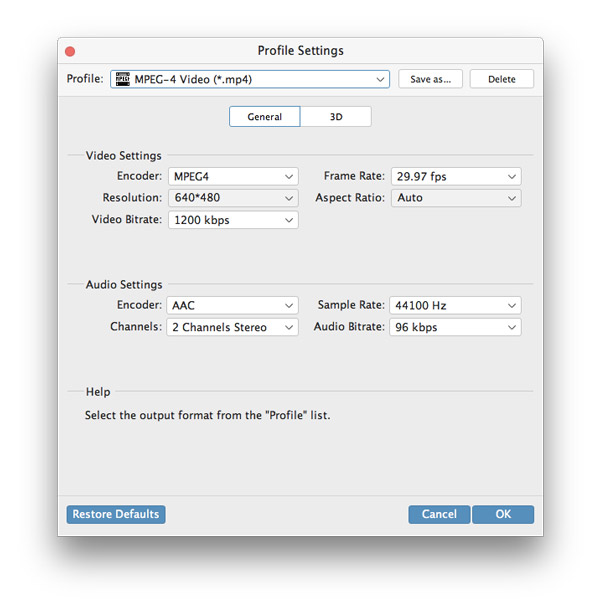 Here are the full instructions for converting MOV to FLV flash video on Mac OS X.
Additional feature - Preset
Apart from choosing a specific audio & video format as output, this program also offers lots of device export profiles in categories. Which is very useful for those who want to convert the file to watch on mobile devices such as iPhone, iPad, Android phones, game consoles (PS4, xbox). You don't have to delve into output settings if there is just a preset profile for your device.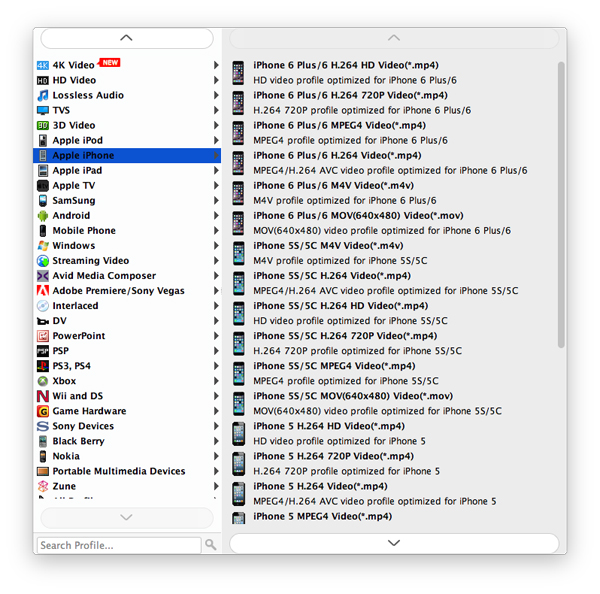 Stage 3 – Start conversion
With everything configured and ready to go, click blue "Convert" button in the bottom right-hand corner of program main screen, your M4A to mp3 conversion for Mac will begin. Let it run until completion.
Converting a M4A to a MP3 format can take minutes to complete, but generally the process is fast.